Mexicana Hotel
Sharm El Sheikh, Egypt (Red Sea)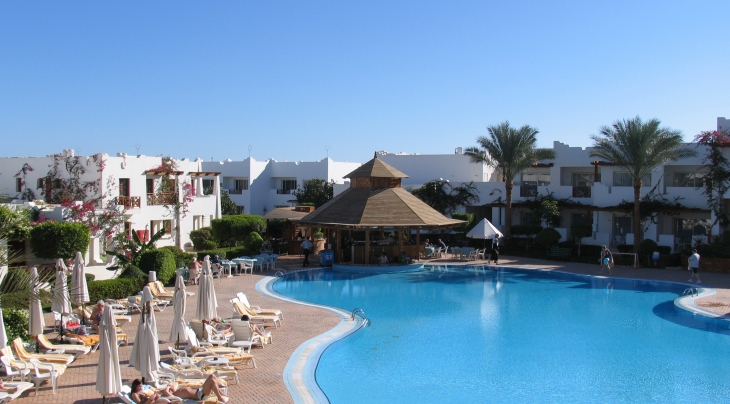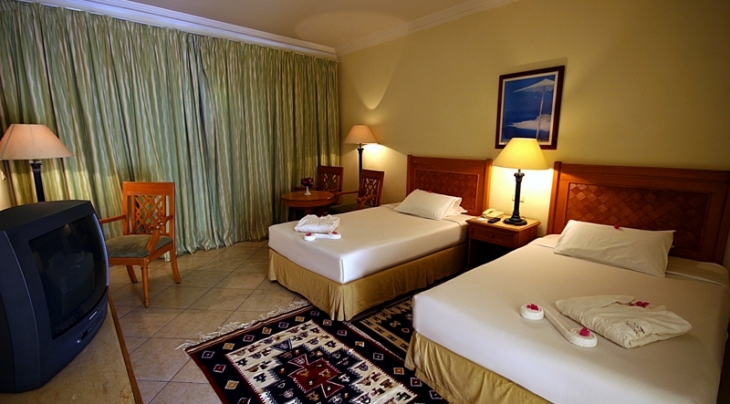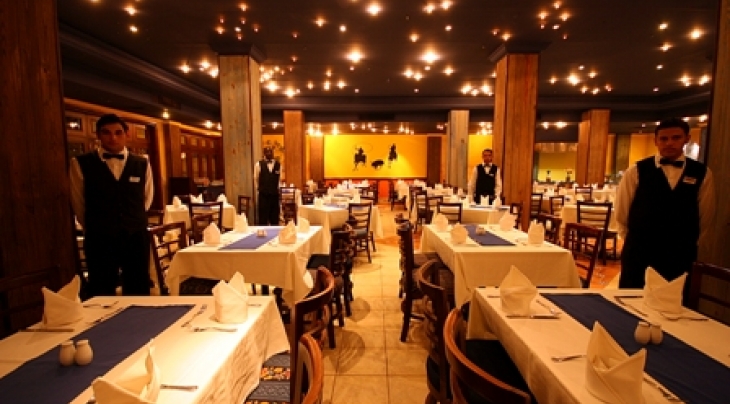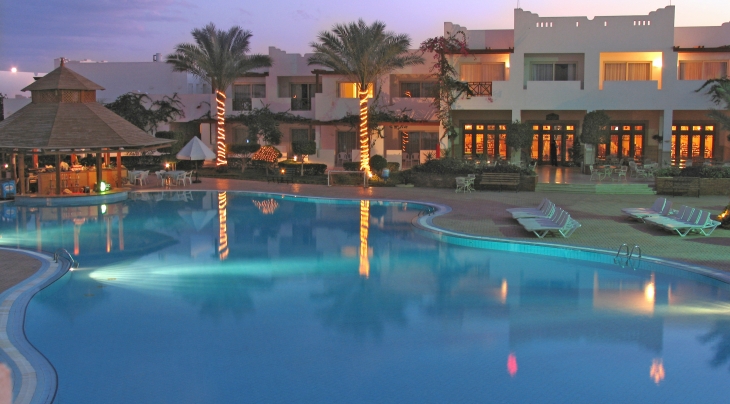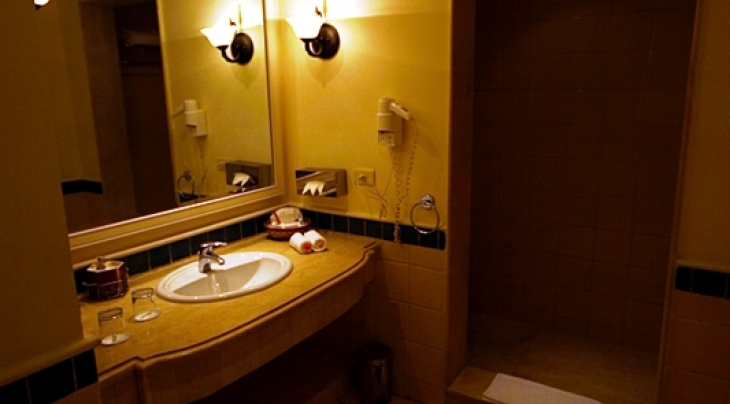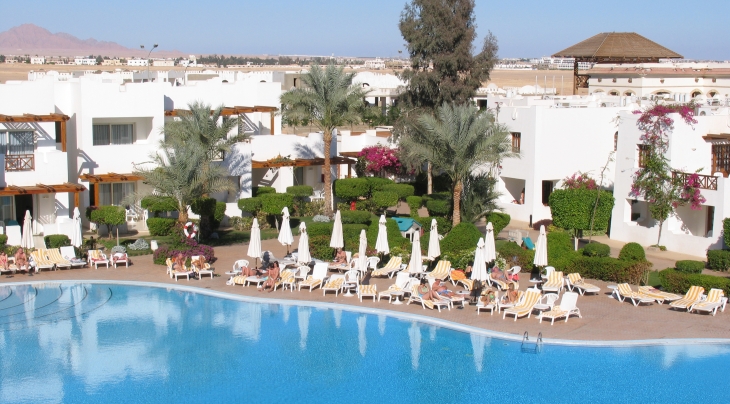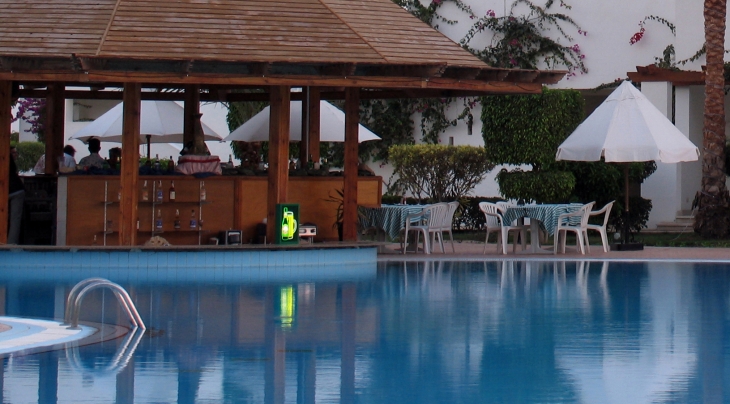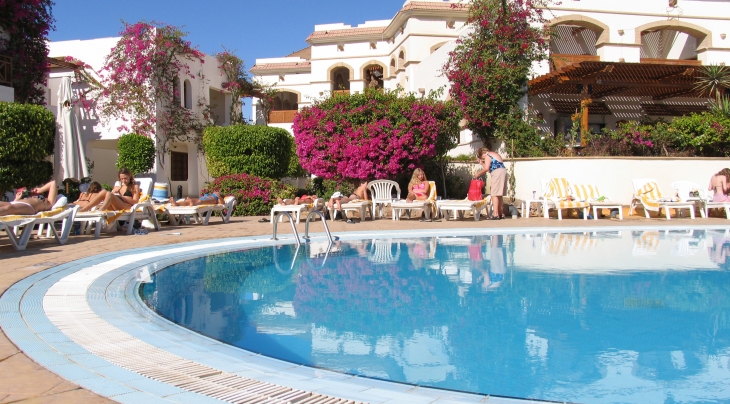 Overview
Formerly known as the Creative Mexicana, the Mexicana Hotel is a very popular hotel for those looking for comfortable accommodation at great value prices. The Creative Mexicana has a very friendly and welcoming atmosphere and is situated in a peaceful location on the Hadaba plateau close to the Ras Um Sid coastline.
The rooms in this spacious hotel are very modern in décor and are well presented. Together with the excellent range of leisure facilities available and its close proximity to Naama Bay, the Mexicana hotel is a valuable addition to the Regaldive Programme.
Accommodation
There are 194 en-suite rooms with shower & WC, 106 standard rooms and 88 family suites. All rooms have air conditioning. Rooms have swimming pool or garden view and a balcony or terrace. Rooms have satellite TV, a telephone and hairdryer. Bed & breakfast basis.
Other Facilities
There are two swimming pools (one heated in the winter) and a private beach with shuttle service available. A choice of buffet, Italian & Steakhouse restaurants are on offer along with a couple of bars. Tennis courts and a pool table are available as well as a souvenir shop for guests convenience.
Families
There is a children's playground, kid's club and family rooms available.
Location
The hotel is located in the Ras Um Sid area, 6 km to Naama Bay and 5 mins to the dive centres. There is a shuttle service to two beaches (free of charge), a shuttle service to Naama Bay (free of charge) and it is 30 mins from the airport.
Group Discounts
11 pay, 1 goes FREE (conditions apply)
Dive info
A Sharm El Sheikh diving holiday offers you a spectacular and diverse range of dive sites that are amongst the best in the world. From the famous Ras Mohammed Marine Park, to some of the most renowned wrecks in the Red Sea, the sheer number of sites means that there is something for all divers. Boat diving is the norm in Sharm and there are also some superb house reefs for diving and snorkelling.
Learning to Dive
Sharm is a good destination for novice and learner divers, with many easily accessible coral gardens that offer safe, shallow water and excellent visibility. This area benefits from the shelter of the land, which means conditions are usually calm to moderate and ideal for those new to diving. A full range of courses is offered at the centrally-located dive centre and there is a heated pool on site. Qualifying dives are often undertaken from the shore.
Qualified Divers
The exciting dive sites of Ras Mohammed Marine Park are what attract the legions of experienced divers to Sharm each year. Situated at the tip of Sinai, where the Gulfs of Suez and Aqaba meet, Ras Mohammed's strong currents and nutrient waters are packed with schools of snappers, barracuda and jacks, coupled with the sharks that come to stalk them. Steep coastal cliffs are mirrored underwater with impressive vertical walls, which drop off 70m or more.
The Strait of Tiran separates Tiran Island from the east coast of Sinai and is famous for four large reefs that rise from the depths like vast underwater mountains. Here, the strong currents and dense plankton attract an impressive range of reef and deep sea species providing some exceptional drift dives.
Further west, round the southern tip of Sinai, lie some of the best wreck dives in the Red Sea. The legendary Thistlegorm is the most famous - a 415 foot World War II British supply ship which lies in 30m with an amazing cargo of motorbikes, trucks, guns and shells.
Twin Centre Diving
Diving in Sharm can also be combined with the spectacular diving available in Dahab, including the legendary Blue Hole. For more information please contact a member the Regaldive team.
Dive prices
Regaldive work with two well established dive centres in Sharm:
Emperor Divers are a British-managed dive company who have been operating in the Red Sea since 1992. They are based at the Bay View Hotel in the heart of Sharm.
Camel Dive Club, founded in 1986, is the longest-established diving brand in Sharm el Sheikh and has won many awards. The main Camel Dive Club is located in Naama Bay.
Emperor Divers
Emperor Divers are a British-managed dive company who have been operating in the Red Sea since 1992.
Emperor Divers is a PADI 5* Career Development Centre and Instructor Development Centre located at the Bay View Hotel in Naama Bay, just a two minute transfer to the Naama Bay jetty. There are over 15 local dive sites and many more in Ras Mohamed and Tiran. Special trips are available to Ras Mohamed, Thistlegorm and Tiran.
Emperor offers a full range of PADI diver training courses from PADI Open Water to Instructor level, as well as snorkelling and introductory dives. The heated training pool and classrooms are also on site. Equipment is available for hire.  Emperor Divers are also able to offer BSAC training courses.
Tekstreme, the technical arm of Emperor Divers, is proud to offer a full range of technical courses through three of the largest training agencies, PADI Tec Rec, BSAC and TDI.
Diving Offers
Book your dive pack or course with Regaldive prior to departure. Our prices are lower than those in resort. You can also take advantage of our great value dive pack offers.
Any dive pack offers listed below are subject to availability and can be withdrawn without notice. For diving only bookings, there is an additional admin fee of £15 per person.
Regaldive Exclusive HALF PRICE Diving Offer
Book a 4, 5 or 6 day dive pack and your buddy gets the same HALF PRICE! *
Saving based on standard diving prices.  Valid for departure dates:
4 January - 26 March 2015
Group Offer
Book 10 dive packs and get one FREE.
Offer does not apply if concessionary rate dive packs taken.
Camel Dive Club
Camel Dive Club, founded in 1986, is the longest-established diving brand in Sharm el Sheikh and has won many accolades over the years. The main Camel Dive Club is located in Naama Bay at the Camel Dive Hotel.
As a PADI 5* Instructor Development Dive Resort, Camel offer PADI training from beginner up to PADI instructor level and beyond. All courses are taught in small groups with the use of specially-designed training rooms and diver training pool where appropriate. Camel Dive Club in Naama Bay has full facilities for disabled divers. Guided daily boat diving is available from a fleet of dive boats including their own boat, Camel Tribe, which leave from the main jetty in Naama Bay.
Camel boats visit sheltered local sites, the Straits of Tiran and Ras Mohammed National Park. Regular trips are scheduled to famous wrecks SS Thistlegorm, SS Dunraven, Million Hope, Kormoran, and to Dahab.
Camel Dive Club offers 250 full sets of Mares diving equipment to hire plus plenty of accessories. There is also an on-site dive shop selling clothing and extras. FREE Nitrox is offered for Nitrox qualified divers. Camel Dive Club can also cater to Technical Divers – please let Regaldive know your requirements in advance.
Complimentary transfers are offered for all Camel Dive Club guests staying at any hotel in Sharm el Sheikh, between the hotel, jetty, and nearest Camel branch.
Diving Offers
Book your dive pack or course with Regaldive prior to departure. Our prices are lower than those in resort.
Any dive pack offers listed below are subject to availability and can be withdrawn without notice. For diving only bookings, there is an additional admin fee of £15 per person.
Group Offer
Book 11 dive packs and get the 12th FREE.
Resort info
Sharm El Sheikh is situated on the most southern tip of the Sinai peninsular. It is a lively resort with a vast choice of bars, discos, restaurants and shops. In addition to a range of watersports, you can explore the surrounding mountains and desert, visiting historical sites.
Ras Mohammed National Park
Mount Sinai walks
St Catherine's Monastery
Camel and Horse rides
Water sports
Find out more about Regaldive's Top Three Sharm Excursions >
Getting Around
The resort is centred on Naama Bay where the hotels, restaurants, bars, shops and beach are all within walking distance. The jetty is the busy centre of activity for dive boats. The dive centres provide transport between hotel, dive centre and jetty for dive trips.
Climate
The hottest time of the year is July and August with air temperature of over 30 ºC. The coolest time is January with the temperature at around 20 ºC. Rainfall is negligable and it is invariably sunny but breezes can be cool.
Time
Egypt is 1 or 2 hours ahead of GMT depending on the season as Egypt does not operate Daylight Saving Time.
Currency
Egyptian pounds or LE. Approximately £1 = 11LE
We recommend that you take some money in Cash to Egypt. There is a currency exchange desk available at the hotel.  Please note that Scottish notes and Australian Travellers Cheques are not accepted in Egypt.
Tipping
Although entirely voluntary, tipping is a recognised part of life in this region of the world. Some local staff will look to travellers for personal recognition of the services offered. We would advise that you allow approx. £10 for gratuities for local staff for the duration of your stay.
Rough Price Guide
Local beer: 25-35LE
Snack meal (pizza / sandwich): 20LE
Bottle of mineral water: 5LE
Soft drink: 8LE
Travel info
Flight Information
There are flights from London Gatwick and Manchester airports as well as many other regional airports direct to Sharm El Sheikh. As there are many flight options, holiday durations are possible from 5 nights to 21 nights. Regional departure airports include
| | |
| --- | --- |
| November - April | May - October  |
| Birmingham | Belfast |
| Bristol | Birmingham |
| Cardiff | Bristol |
| East Midlands | Doncaster Sheffield |
| Doncaster Sheffield | East Midlands |
| Edinburgh | Edinburgh |
| Glasgow | Exeter |
| Gatwick | Gatwick |
| Luton | Glasgow |
| Manchester | Leeds Bradford |
| Newcastle | Luton |
| Stansted | Manchester |
| | Stansted |

Flight duration: Approx 5 - 5½ hours
Transfer: Varies according to hotel. Minimum transfer time approx. 10 minutes, maximum transfer time approximately 30 minutes.
Departure tax:  N/A
Passports
Passengers travelling to Egypt must have six months valid on their passport from the date of departure from Egypt.
Visas
A single entry tourist visa for Egypt is required for all nationalities. For British passport holders with British citizenship, Egyptian visas can be obtained conveniently and inexpensively on arrival at Sharm El Sheikh airport.
Other nationalities should check with consular office.
Vaccinations
There are no compulsory vaccinations for travel to Egypt, but we recommend protection against typhoid, tetanus, hepatitis A and polio. Though malaria does exist in Egypt, it is generally not present in the Sinai.
Vaccination requirements are subject to change and should be confirmed before departure.  For the most up to date advice please consult your travel clinic.
Further information regarding vaccinations for travel to this country can be found at www.fitfortravel.nhs.uk and from your local healthcare provider.
Prices
The prices noted below include: flights from Gatwick, 7 nights accommodation in a twin room and transfers. However, Regaldive are able to offer both shorter and longer holiday durations and other departure airports may also be available. Please enquire with a member of our team. Prices are subject to change, depending on flight cost at the time of booking.
These prices are based on a direct London Gatwick - Sharm Flight Thursday departure.
Supplements
Board: Bed and Breakfast
Half Board Supplement from: £35
All Inclusive from : £70
Apartment room: £35 per room
Suite: £112 per suite
Third Person Discount: £21
Gala Dinners: Xmas and New Year included
Child Prices: Infants under 2 yrs £65, 1 child 2-11 yrs sharing adults' room from £399
Private return car transfer (based on 2 passengers - price per car): £30
Upgrade to All Inclusive basis >
POA = Price on Application
Offers
Reviews

Have you stayed here? Why not share your experiences by adding your review?
Write a review
Price guide
£353
per person incl. flights, transfers, 7 nights BB
This was originally meant to be a shore-based diving holiday in Dahab, Egypt but was re-sited to Sha...
Anon, UK | 2014
At a glance
Flight time: 5 hours
Water temperature: 22 - 30°C
Highlights on land: Sinai Desert
Highlights underwater: Ras Mohammed