MV Ari Queen
Maldives Liveaboards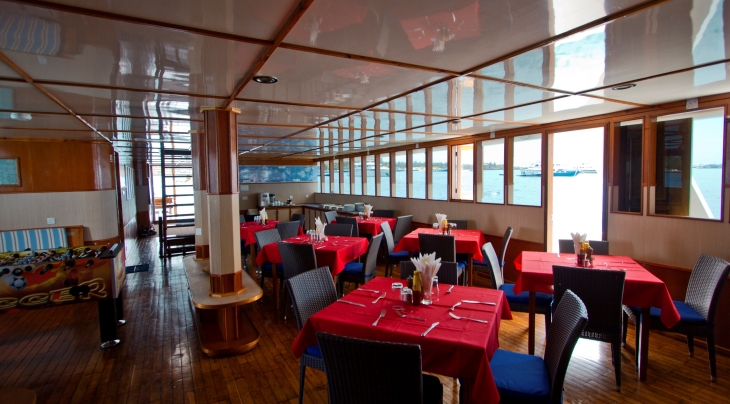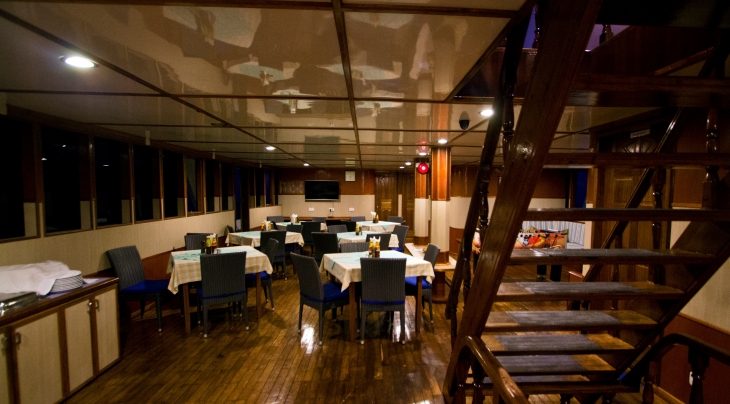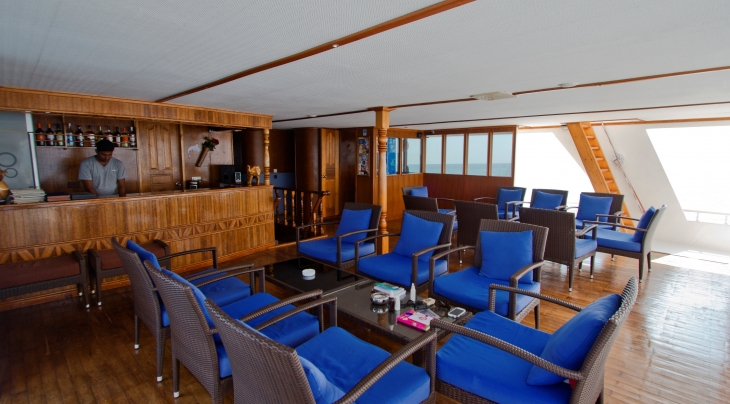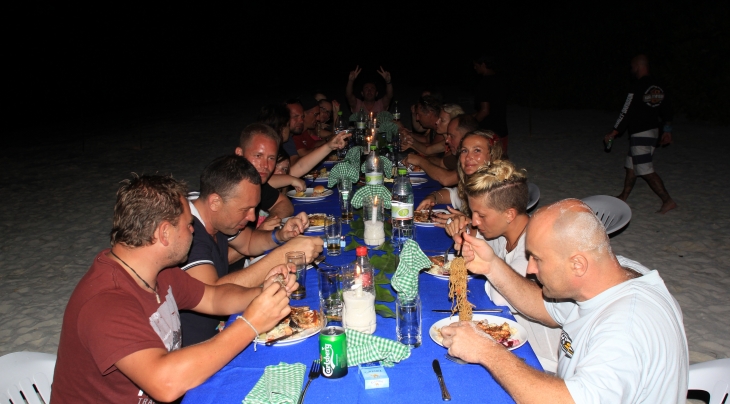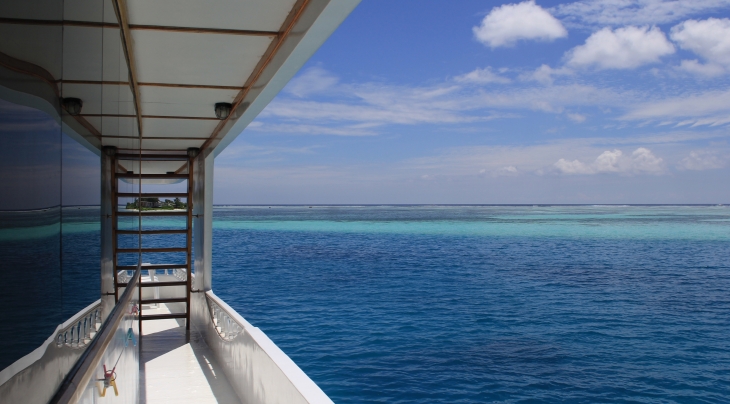 Overview
Ari Queen was launched in early 2009 and has recently been refurbished. This attractive, spacious boat receives great feedback and comfortably accommodates up to 20 divers in 10 air-conditioned, en-suite cabins with hot water showers.
6 lower deck cabins feature a double and single bunk bed over, 2 double bedded 'deluxe' cabins on the main deck with windows and 2 further upper-deck 'suite' cabins can be adapted from twin to double, also with windows.  The deluxe and main deck cabins also have a small fridge and a 32'' flat screen TV. All cabins have individually controlled A/C, warm water showers, wardrobe and storage.
On deck, there is ample sun protection or space for sun lovers, a good sized dive deck and cool freshwater shower and deck level toilet. A dining lounge with comfortable seating, TV and bar, make this a boat a great choice.
Operating out of Male on a Saturday to Saturday, MV Ari Queen covers the best dive sites of the central Maldivian Atolls, including Ari Atoll, while following a flexible itinerary that takes account of local diving conditions. During the seven night itinerary, Ari Queen visits several hotspots for seasonal marine life. The dive staff have an excellent record of bringing both divers and snorkellers into contact with whitetip sharks, grey sharks, manta rays, turtles, whale sharks and occasionally hammerheads.
Itineraries
Ari Queen operates out of Male Saturday to Saturday, visiting dive sites around a number of the central Maldivian atolls. Typically, there will be 1 dive on the first day of a week's sailing, then 3 dives per day (including 1 night dive when applicable) and 1 dive on the final day (17 dives in total), personal no-fly times permitting. Ari Queen sometimes offers special 2 week itineraries. Please check the liveaboard availability tab.
Specification
Length: 33m, Beam: 9m, Draft: 3m, Built: 2008, Engines: 380 HPS Commins, Generators: 22 kw sound proof, Desalination plant (6 tons/day), Dive dhoni. Towels are changed twice weekly and bed linen once mid-week.
Navigation / Safety
Radio, Mobile phone, Oxygen, First aid Equipment, Life Jackets, Life Rafts, Fire System.
Schedules & prices
Price includes: Flights on Emirates, transfers, 7 nights twin share, meals full board, 1.5l bottled water per day & tea, coffee after meals, 17 dives including 1 night dive, except arrival & departure day. Flights also available with Sri Lankan, Qatar Airways, Oman Air, British Airways & charter flights - please enquire. Package price may fluctuate according to flight seat availability at time of booking.
 
Group charter rates are available, please enquire. 
Supplements
Guaranteed Single Occupancy Standard cabin: from £460 per week
Main Deck cabin: From £110 per person per week
Upper deck cabin: From £191 per person per week 
Triple reduction for 3 sharing (lower double/upper single - lower deck): £74 each per week
Equipment:  
Whilst equipment can be organised, it is generally expected that divers will bring the majority of their kit with them. Please request any items in advance, as they are sourced from Male rather than on the boat.
 
Guideline Equipment Prices $USD - pay locally, per week:
Regulators: $50
BCD: $50
Computer: $50
Wetsuit (3mm shortie): $50
Torch: $5 per dive
Nitrox: $100
15l tank: $75
Guideline Drinks Prices:
Bottle mineral water: $3
Coffee Instant / fresh: $1.50 / $3.50 (outside mealtimes)
Canned drinks: $3
Beer: $3.50
Wine: $20 - $30 per bottle
Spirits: from $4
Fresh juices: $4
Local sales & service charge payable in resort:
POA = Price on Application
Dive info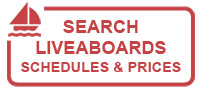 Diving in the Maldives is influenced by the seasons. The quality of individual dive sites and marine parks is determined by the ebb and flow of seasonal currents, which in turn affects both the underwater visibility and the marine life. Liveaboards follow these seasonal variations, taking divers to the best sites for the time of the year.
Regaldive operate a range of liveaboards throughout the Maldives. These include classic itineraries following established routes out of Male to new itineraries in remote atolls where the dive sites have only recently been established Maldivian Liveaboards are supported by a 'dive dhoni' where all dives are conducted from. The dhoni which carries all cylinders, equipment and compressors.
Classic Liveaboards out of Male
Over the past thirty years an incredible range of world class dive sites have been charted in the atolls surrounding the capital, Male. MV Emperor Voyager, MV Emperor Atoll, MV Keana, MY Mariana, MV Ari Queen, MV Sharifa and MV Carpe Diem and MV Carpe Vita visit many of the Maldives best known dive sites following a flexible itinerary that take account of local diving conditions. The boats will generally operate in both North and South Male atoll, Felidhe and Ari atoll and some operate a limited number of special trips further afield.
Liveaboard Itineraries Beyond Male
The last two years has seen access to some remote atolls in the Maldives improve dramatically. Regaldive feature liveaboards that cover these exciting new atolls, ranging from Haa-Alifu in the far north, to Huvadhoo in the far south. These atolls represent the new 'frontiers' of diving in the Maldives and lie well beyond traditional tourist maps. 
Far North Haa Alifu Atoll
Haa Alifu is the most northerly atoll in the Maldives. There is a sizeable local population in the atoll but virtually no tourism development. MY Amba is the first liveaboard to the atoll offering a mix of dives on charted dive sites alongside truly original exploratory diving. Access to the atoll is via Male and involves an internal sea plane flight to Hanimadhoo airport. Main Manta season in this area is September and October for the best sightings, but nearly every week there are Mantas on some of the dive sites.
Far South Meemu Atoll
Meemu, Thaa and Laamu atolls are 3 of the 5 most southerly atolls and MY Sheena, under the expert management of Werner Lau, offers an exhilarating itinerary from the island of Medhufushi. Challenging drift dives make up the majority of the 3 daily dives available on MY Sheena; as many of these islands are yet to be fully dived and explored, many of the dives will be semi-exploratory, suiting divers looking to document some untouched sites in search for the unknown.
Liveaboard and Island Combinations Tailormade
Twin-centre holidays are easily arranged. Regaldive offer flights departing every day of the week on a range of schedule airlines allowing you the flexibility to determine the duration of your holiday. Charter flights are also available, but their weekly schedule may not match the liveaboards departure days.
Diving
Diving in the Maldives can be challenging, and as such it is recommended that divers have a minimum qualification of PADI Advanced or equivalent, with 40+ logged dives, although experienced Open Water divers are not precluded. M/Y Sheena requires a minimum of 60 logged dives, but exceptions may be made on request in certain cirsumstances.
Diving is encouraged to be undertaken in individual self-sufficient buddy teams and small groups, though you may of course choose to follow the guide for ease of navigation.
Flight Options
Emirates via Dubai from Heathrow, Manchester, Birmingham and Glasgow. Other regional departures may be available; supplement may apply. Regaldive's prices are currently based on Emirates. Supplements may or may not apply for other airlines dependant on seat availability.
Sri Lankan via Colombo from Heathrow, Qatar Airways via Doha from Heathrow and Manchester, Oman Air via Muscat from Heathrow, British Airways from Gatwick.
Charter Flights: Flights are direct, once a week for 7 and 14 night durations, usually flying overnight on outbound. Charter flight days may not match all the liveaboard departure days, with the exception of Carpe Diem.
Internal transfers to your liveaboard
Your boat is reached either by sea plane, speedboat transfer or internal flight from Male airport. Transfers are organised as part of your holiday package, unless requested otherwise.
Seaplane and Boat Transfers
Most liveaboards that opearate out of Male will organise a transfer using a dhoni that will pick you up from the airport and transfer you to the baot. Liveaboards operating from other areas will have a either a speedbaot transfer, seaplane or pressurised flight.
If you are transferring by seaplane you should be aware of the following:
Seaplanes do not operate a fixed departure schedule, but are planned daily according to the islands / boats requirements. The planning is carried out locally 24 hours in advance.
Seaplanes often pick up and drop off guests from a number of islands on a single transfer run.
Seaplanes only operate during daylight hours, generally 9.00 a.m. to 6.00 p.m.
You may have to wait for a short duration after arriving in Male. On departing, the islands will transfer you back to Male as late a local logistics on that day will allow.
On departing your island resort your return seaplane transfer time will be confirmed the day before departure by your resort.
If you have a late international flight departing home, it is highly advisable you ask Regaldive to reserve a day use package for you at the Hulhule hotel.
Seaplanes are not pressurised flights.
Seaplanes typically operate a strict weight policy of 20kg for hold luggage.
Excess luggage is currently $2 per kilo to the island and $4 perkilo on the return.
Inter Atoll Flights - Haa Alifu
Transfers to Haa-Alifu in the North involve an internal pressurised flight from Male. This is arranged and costed as part of your travel package to the north of the Maldives, unless otherwise requested.
Hulhule Airport Hotel - Day use & overnights
International and internal flight schedules occasionally make fairly long connection times in Male Airport inevitable. The Hulehule Airport hotel offers inexpensive day packages to non-residents for use of their beach, pool, showers, left luggage and other facilities. Pre-booked packages are available with Regaldive, for day use with and without a room, and overnight stays (refer to separate webpage on Hulehule Airport hotel).
Passports
Passengers travelling to the Maldives must have six months valid on their passport from the date of return to the UK.
Visas
A free 30 day permit is given to British travellers on arrival in Male. Other nationalities should consult their consular website.
Vaccinations
Vaccination requirements are subject to change and should be confirmed before departure. For the most up to date advice please consult your travel clinic or local GP. Further information regarding vaccinations for travel to this country can be found at www.fitfortravel.nhs.uk. There are no compulsory vaccinations for travel to the Maldives, but we recommend protection against typhoid, tetanus, hepatitis A and polio.
Itineraries
MY Mariana, MV Ari Queen, MV Sharifa and MV Carpe Diem will visit many of the Maldives' best known dive sites whilst following a flexible itinerary that takes account of local diving conditions.
Offers
Reviews

Have you stayed here? Why not share your experiences by adding your review?
Write a review
Price guide
£1725
per person incl. flights, see below for full details
At a glance
Flight time: 10.5 hours
Water temperature: 24 - 28°C
Highlights on-board: All cabins are air-conditioned with en-suite facilities.
Highlights underwater: Best central sites including Ari Atoll