Aqua Galapagos Dive Itinerary
The Aqua Galapagos is a comfortable mid-range motor yacht suited to adventurer seekers of all ages. She operates 7-night diving itineraries as well as 3 and 4-night naturalist itineraries throughout the year.
Diving the Galapagos is on most diver's bucket list. The diving conditions are varied and demanding. In order to join a liveaboard, divers should have a minimum of 100 logged dives and be advanced qualified. It's also preferable that divers have had some experience with rough surface conditions, low visibility, and strong currents; and that they have had some exposure to diving in cold water, requiring thicker wetsuits and hoods.
Please note that the itineraries can change depending on weather and logistics at the Captain's discretion. Itineraries can also be changed at the discretion of the Galapagos National Park who administer cruise itineraries.
Sample Itinerary
Tuesday – Day 1, Arrival Day (1 dive)
Fly to the Galapagos from mainland Ecuador. You'll be met on arrival and assisted by a member of the Aqua crew. Transfer to the boat for check in. After lunch and a safety briefing, your diving adventure begins with a check-out dive at Baltra North East, a great spot to introduce you to the wonders of the marine life found in this special place.
Wednesday – Day 2, (3 dives)
This morning begins at Cape Marshall on the north-eastern coast of Isabela island. Enjoy a drift dive along a vertical volcanic wall keeping an eye out for sharks. This afternoon brings the opportunity to encounter giant mantas at the City of Mantas site. Once back on board, the boat will begin the journey north, over the equator to Wolf & Darwin islands.
Thursday – Day 3, (4 dives)
The next few days will be spent up at Wolf & Darwin islands for divers to experience the very best of the Galapagos dive sites. Today's diving is concentrated at Darwin. Dive sites such as Darwin's Arch, a hotspot for scalloped hammerheads and whale shark encounters, Darwin's Theatre with its panoramic hangouts at the edge of the drop-off – a great place to watch in awe at the aquatic show! In addition there are cleaning station sites and gullies to explore whilst diving amongst an incredible marine wildlife.
Friday – Day 4, (4 dives)
Continue diving around Darwin this morning (2 dives) and continue to Wolf for the afternoon dives (2). The Landslide is one of the top spots here, a site where hundreds of hammerhead sharks are frequently observed. Expect to see multiple shark species, dolphin, turtles, endemic fish, rays and much, much more. Dive the Pinnacle and explore The Caves. You'll experience the very best sites and there's an opportunity for a night dive up at Wolf.
Saturday – Day 5, (3 dives)
Continue your diving adventure around the famous sites at Wolf Island.
Sunday – Day 6, (2 dives)
Your first dive this morning brings the chance of mola mola (sunfish) encounters at Vicente Roca Point off the coast of Isabela Island. This is one of those chilly dives! This afternoon's dive site is Cape Douglas, off the coast of Fernandina. Keep an eye out for Galapagos penguins and cormorants as you prepare for your dive. It's here that you'll have the best chance of seeing marine iguanas amongst other endemic species.
Monday – Day 7, (2 dives, 1 topside activity)
Your final dives will be around Cousin's Rock where you can observe blue-footed boobies and pelicans, sea lions and Galapagos penguins before you even get in the water. The dive site is an adventurous wall dive, often with some strong currents and an abundance of plankton, which in turn attracts a plethora of marine life including large pelagic species.
This afternoon is a topside hike in the Highlands of Santa Cruz. You'll visit El Chato Tortoise Reserve and have the chance to learn more about the flora and fauna of this unique destination.
Tuesday – Day 8, (depart)
This morning you'll be transferred back to the airport for your flight home. However, it's possible to extend your stay on board with a 3 or 4 night naturalist itinerary exploring the main islands. Ask the Regaldive team for further information.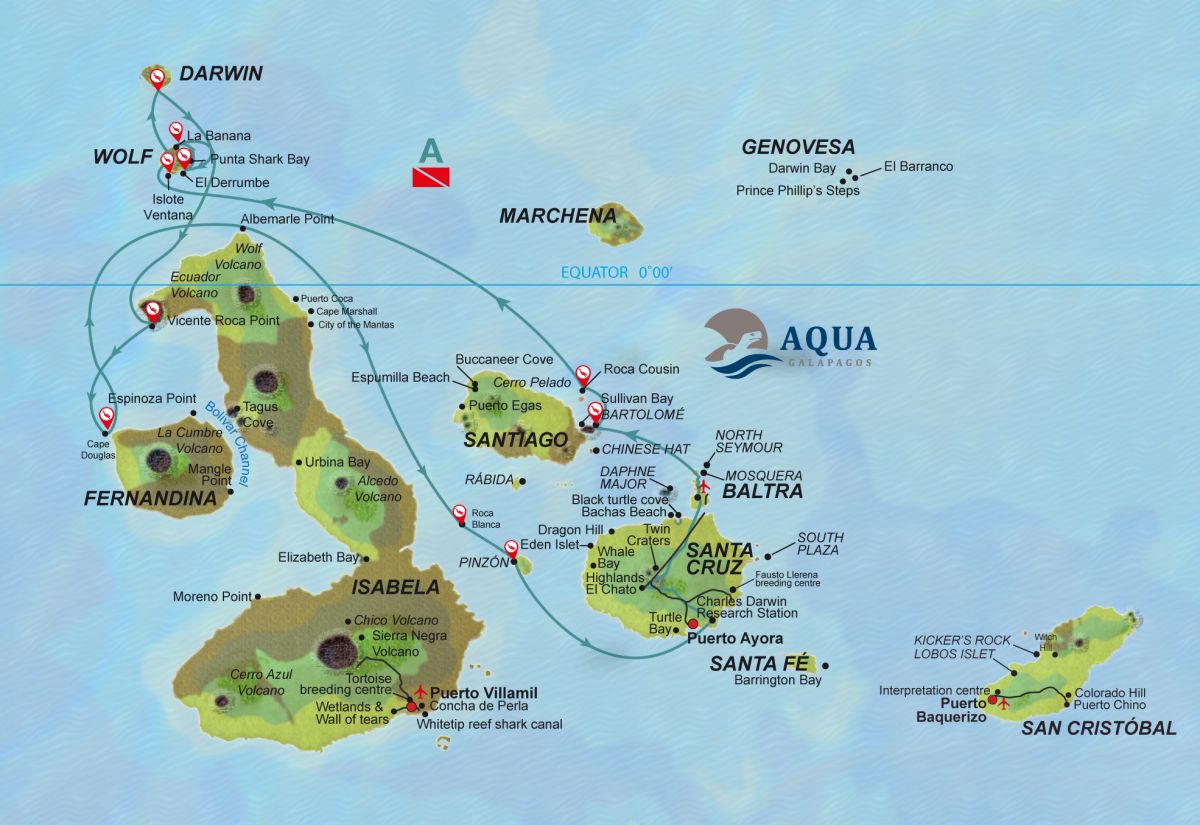 ×