Tubbataha
Tubbataha Reef National Marine Park from Mactan or Puerto Princessa
February to June - 6 nights / 13 nights
Proclaimed as a National Marine Park in 1988 and inscribed as a UNESCO World Heritage site in 1993, in recognition of its outstanding universal value in terms of marine life species diversity and richness. 182km south east of Puerto Princessa on Palawan Island, the Tubbataha Reef in the Sulu Sea offers some truly amazing diving and is only accessible by liveaboard. Tubbataha reefs offers dramatic vertical walls and pinnacles rising out of great depths. The shallow reef tops are teeming with colourful reef fish; in many places stingrays, spiny lobsters, immature manta rays, turtles, leopard sharks and guitar sharks can be found. The walls are covered in huge barrel sponges, gorgonian sea fans, soft corals, hydroids and black corals. In deeper water, shoals of angelfish, butterfly fish, pennant fish, rainbow runners, Moorish idols, fusiliers, jacks, snappers and sweetlips follow you around. Large trevally, tuna and barracuda as well as grey reef sharks and whitetip sharks patrol. If you remember to look away from the fascinating reef wall from time to time, Giant manta rays and eagle rays may be spotted overhead along with turtles and groupers.
Nb: Please note that liveaboard itineraries can change without notice. The itinerary will depend on several factors including, but not limited to, weather, diving ability of guests & the number of other boats already present at the various dive sites. All dive sites visited are subject to weather conditions and are at the discretion of your dive guides and vessel captain.
Getting there: The Tubbutaha National Marine Park starts and finished in Puerta Pricessa, reached with an interal flight and transfer via Manila.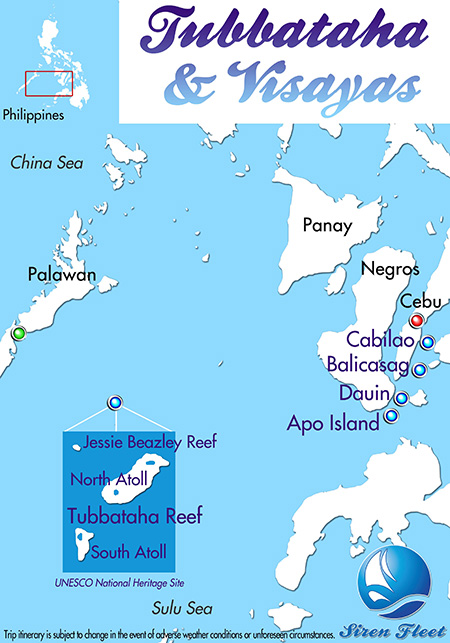 ×