St. John's
ST. JOHN'S - FURY SHOALS REEF SYSTEM -

DEPARTING FROM HAMATA PORT (16 DIVES MINIMUM)

Experience Level: Aquarius requires that you are a PADI ADvanced diver or equivalent for this itinerary.

Sailing to the southernmost reefs, this cruise departs Hamata Port so you don't waste anytime travelling to and from Port Ghalib. You'll start with a very short sail to a nearby site that's perfect for that first check dive. You then spend a week diving, diving, diving! You'll dive Fury Shoals sites at the beginning and end of the trip with the St Johns in the middle. Below are some of the sites that can be visited during your trip and your guides will ensure you get the best experience possible allowing for prevailing weather conditions.

At Fury Shoals, dive Sha'ab Claudio with its famous swim-throughs and huge porites corals. White tip reef sharks and an anemone and clownfish settlement can be seen a little off the reef to the South. Abu Galawa Soraya has a fantastic coral garden and a wreck of a private sailing boat packed with glass fish.

Sha'ab Maksur is a large and varied reef that is often compared to the Red Sea classic, Elphinstone, with steep drop offs and strong currents making it a dive where some diving experience is beneficial. North and South plateaus start at around 20 metres and extend to around 40 metres, although the plateau has some pinnacles that can be enjoyed on the ascent and safety stop. On the plateaus, and drifting down the east wall, you can encounter some species that make a proud entry in your log book, hammerheads, reef sharks, mantas and whale sharks have all visited Maksur!

Sha'ab Sataya is situated at the very south of Fury Shoals; this huge natural lagoon is formed by a massive reef (sha'ab) rising from the depths. The fame of Sataya is its steep drop offs along with pelagic sightings and protected pinnacles smothered in soft and hard corals. But the real stars can be the huge pods of spinner dolphins that frequent here, meaning Sataya has become the 'Dolphin House' of Hamata.

Then further south to St Johns. A vast collection of small reefs offering some of the most remote and rewarding diving in the Red Sea. Habili Ali has giant gorgonians and black corals whilst grey reef, silvertip and schools of hammerhead sharks might be found on the west side. Habili Gafaar is a mass of soft corals teaming with shoals of snappers, butterfly fish and barracudas. Mantas, grey reef and silvertip sharks can be seen in the blue.

Gota Kebir is a massive reef, famous for its tunnels and south plateau, where jacks and barracudas can be seen and the occasional manta. The tunnels are ideal for novice cave divers.

Gota Soraya is rated as possibly one of the best wall dives in the Red Sea, with overhangs and cracks in the reef wall full of glass fish and sweepers as well as an abundance of corals, grey reef, silvertips and hammerhead sharks.

Please note: You are expected to be able to complete each dive with your buddy or following the guide. The guides may not enter the water and may remain onboard as surface support for some dives. As with all diving activities, the dive guide has the final decision regarding any divers competency to complete any particular dive. This is a sample itinerary and is subject to change without notice. The itinerary will depend on several factors including, but not limited to, weather, diving ability of guests & the number of other boats already present at the various dive sites.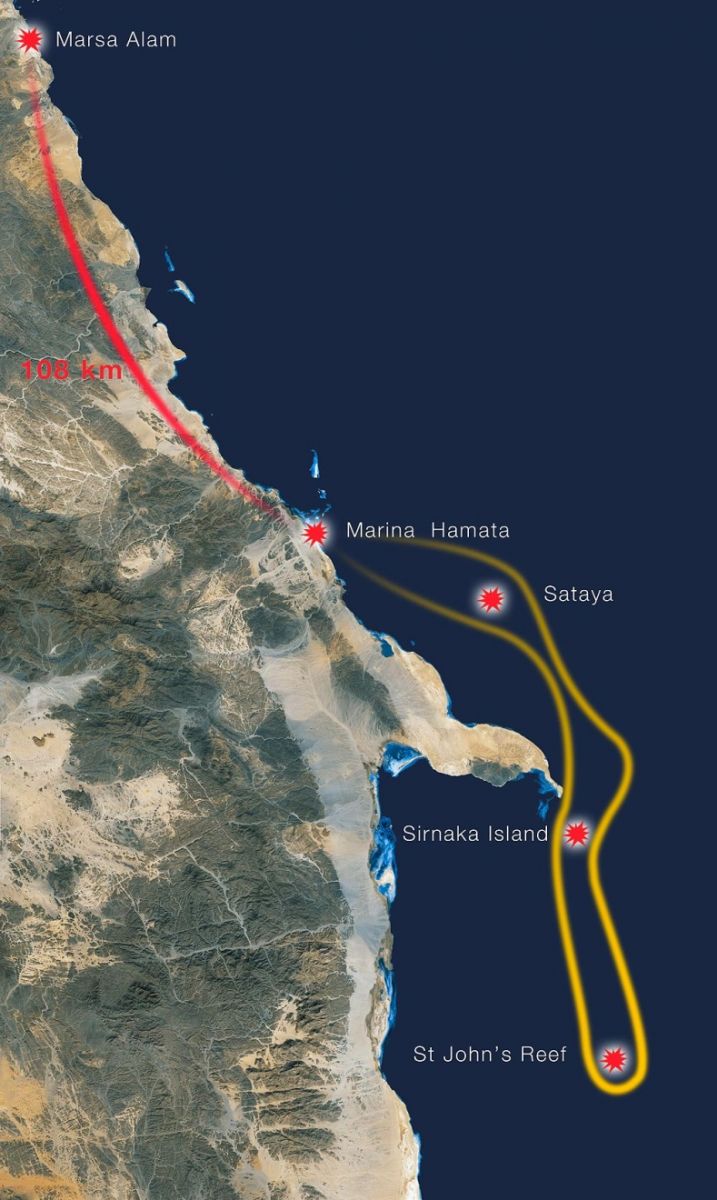 ×