Socorro Islands
Sample Itinerary
The diving in the Socorro Islands is not for novice divers. Before attempting to dive in the Socorros Islands you should be completely comfortable in the water and comfortable with all aspects of your equipment. Having experience of diving in cold water with a thicker wetsuit and hood, as well as experience of diving in strong currents, up currents and down currents is highly recommended. Experience in mixed surface conditions, mixed currents and varying water temperatures, proficient use of a DSMB and the ability to cope in buddy pairs or on your own should you become temporarily separated, is imperative.
Regaldive advise that guests booking on to a Socorro Islands liveaboard should be minimum PADI Advanced or equivalent and have more than 50 logged dives.
This is a general itinerary that is adjusted on a trip by trip basis according to weather and marine life. Having dived this area since 1992, the crew members are familiar with the changing conditions and will use their knowledge to maximise your BIG animal experience.
Day 1: Departure from Cabo San Lucas at around 4:00pm to San Benedicto Island.
Day 2: Arrival at San Benedicto about 1:00-2:00pm (the crossing takes 22-24 hours). The rest of the afternoon is spent diving.
Day 3: Day is normally spent diving around San Benedicto and considering weather possibilities for a crossing to Roca Partida. After sunset boat departs to Socorro Islands - crossing takes 4-5 hours. On occasion, if weather looks good, the crew might decide to try Roca before Socorro.
Day 4: Arrival at Socorro Island early am, then a quick check in at Navy Base for clearance. Most of this day is spent diving around Socorro Island. If conditions are good here, or it is humpback whale season, we might stay another day, but usually we depart back to either San Benedicto or Roca Partida after sunset.
Day 5: Arrival early am to San Benedicto or Roca Partida, with diving all day.
Days 6, 7: These days are spent diving numerous sites around San Benedicto and/or Roca Partida, depending on weather and if we have been able to get to Roca Partida previously. Both islands are known for most of the large animal encounters on our trips. After a full day of diving on day 7, departure back to Cabo.
Day 8: Arrival to Cabo after a 22+ hour crossing, depending on weather conditions, which means that the boat usually arrives after sunset on this day. Guests overnight in port and disembark the next morning after breakfast onboard. The dock has a great location near town for those who want to get off and stretch their legs or visit the local night spots.
Day 9: All clients must disembark after breakfast no later than 9:00am. The crew will help you with your bags and in arranging airport transportation.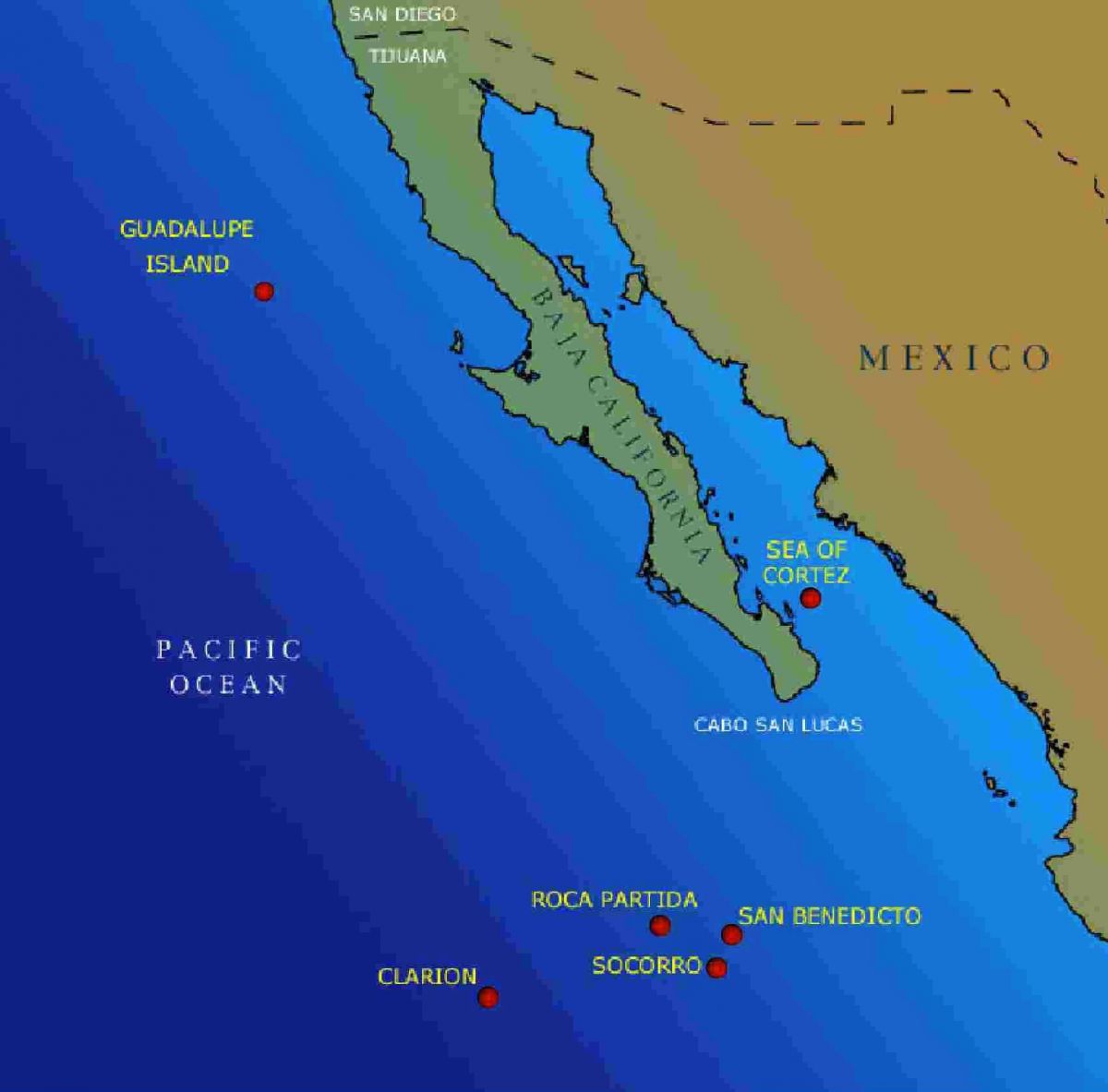 ×