Daedalus & St. John's
Departing from Port Ghalib
Similar to the Deep South safari, this exciting itinerary allows you explore the beauty of the Southern Red Sea with the added bonus of visiting the marine park of Daedalus Reef.
QUALIFICATION NEEDED:
You must be a PADI Open Water diver or equivalent and have logged a minimum of 30 dives to join this safari.
As with all diving activities, the dive guide has the final decision regarding any divers competency to complete any particular dive.

Please note that night diving and snorkelling will only be allowed on some parts of this itinerary as it includes marine parks where this is prohibited.
Itinerary Highlights: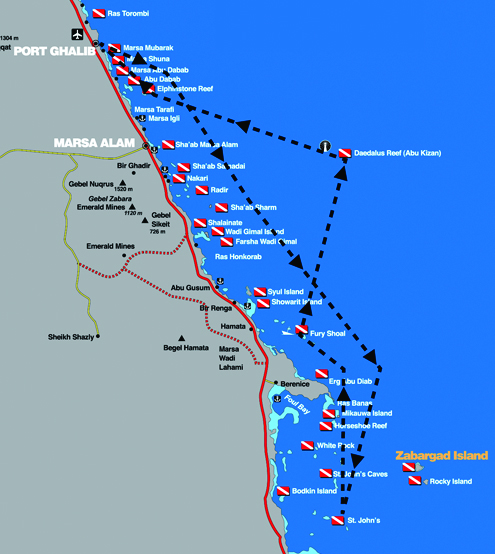 Daedalus and St. John's offer remote reefs covered in hard and soft coral formations and breaktaking scenic dives with an abundance of marine life. This trip offers an amazing opportunity to dive some of the most stunning reefs in the Red Sea.
Daedalus
This huge reef rises from the sea bed in the middle of the Red Sea. Easily recognised by its zebra-striped lighthouse, this massive reef offers some of the most amazing dives in the Red Sea. The sheer walls are covered in overgrown hard coral formations and a variety of reef fish. Napoleon wrasses and turtles are often cruising by, but make sure you keep your eyes open on the blue! Daedalus is one of those places where anything can happen... oceanic white tip reef sharks, grey reef sharks, a lonesome hammerhead shark or schools of them. The excitement and the sheer size of this reef means that you can do several dives and not get bored!
Elphinstone Reef
A Red Sea legend. Elphinstone is a beautiful long reef with its walls, north and south covered in hard and soft corals. It offers colourful scenery and a very good variety of reef fish... the occasional visiting pelagic can make this dive site very interesting.
Fury Shoal
This large cluster of reefs offers unforgettable and easy dives. From the northern site of Small Abu Galawa to its most-southern site of Sataya, Fury Shoal can prove to be surprising and diverse. Each dive site has its particularity: from dolphins, to stunning hard coral formations and not forgetting the two little wrecks, "Tug Boat" and the "Yacht". Often overlooked, its beauty and easy diving will be welcomed after currents and wall diving!
St. John's Reef
Located on the Tropic of Cancer, this chain of reefs is the furthest South you will get! All its dive sites are very close to each other which means that you can easily move from one place to another. It therefore adds a lot of variety to your dives: drop-offs, tunnels and stunning hard-coral formations. One of these dives (St John's Caves or Umm Kharalim) is truly unique and is a photographer's heaven with rays of light filtering through into the beautiful tunnels. The reef formation is not the only thing that will stun you at St John's... the marine life and the colours of the soft corals are one of the best in the Red Sea. With any luck, dolphins or pelagics will join you on the dives and St John's will forever have a place in your heart.
Due to the locations of the dive sites visited on this itinerary there will be a substantial amount of travelling during the safari. This may mean that it is only possible to complete 3 dives on certain days.
Note: The above, is a sample itinerary and is subject to change without notice. The itinerary will depend on several factors including, but not limited to, weather, diving ability of guests & the number of other boats already present at the various dive sites. All dive sites visited are subject to weather conditions and are at the discretion of your dive guides and vessel captain.
×