Northern Wrecks & Reefs
Departing from Hurghada
This cruise allows you to take in some of the most notorious wrecks that the Red Sea has to offer. An ideal itinerary for those new to SCUBA diving or the Red Sea, allowing you to experience world famous wrecks and pristine reefs.
QUALIFICATION NEEDED:
You must be a PADI Open Water diver or equivalent to join this safari.
As with all diving activities, the dive guide has the final decision regarding any divers competency to complete any particular dive.
Itinerary Highlights: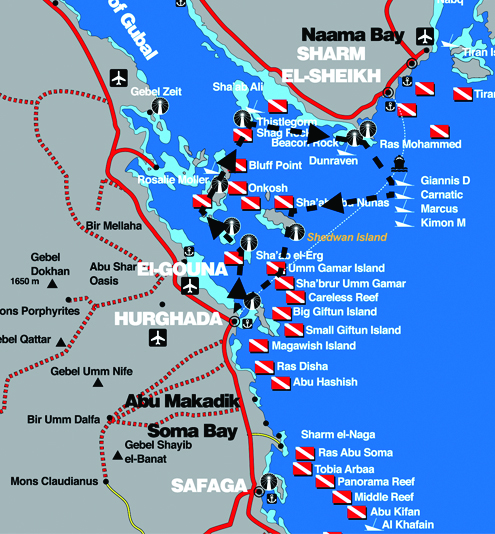 SS. Thistlegorm – Shaab Ali
Probably the most famous of the Red Sea wrecks. The 129m English Freighter was bombed by German aviation on 6th October 1941. Today she creates an artificial reef on a sandy bottom at 32m max depth. She is home to an enormous variety of marine life and is especially popular with large schooling fish.
Small Crack - Shaab Mahmoud
This is a small split in the middle of Shaab Mahmoud's barrier. Drift along the outside wall next to beautiful corals and colourful fish. Look for a sand slope that leads you up and through the crack. When the current is right you can fly through the 5m deep channel and be thrown out across the sandy lagoon!
Gubal Island
At the gate of the Straits of Gubal is 'Bluff Point', which gets its name from the turbulence created by strong currents that beat the eastern wall of the island. The wreck of the 'Ulysses' lies on the reef 300m north of the lighthouse, starting at 5m and sloping to 25m. 'The Barge' wreck, south of the lighthouse, provides divers with a fun and unusual night dive. The wrecks skeleton creates protection for all types of night creatures.
Abu Nuhas
Also known as the 'Ships Graveyard', this reef is dangerously positioned close to the busy shipping lanes of the Gulf of Suez. This reef has claimed more ships than any other in the area. On the north side are four wrecks laying on a sandy seafloor at the bottom of a steep sloping reef layered with table corals. Wrecks here include the Ghiannus D, Carnatic, Tile & Lentil Wrecks. On the south side is a safe anchorage for liveaboards and two ergs, known as Yellow fish reef.
Shag Rock
This large circular reef is often overlooked but offers excellent diving on pristine coral from any location on its perimeter. Ras Mohammed national park is not standard within this safari but may be visited at the discretion of the crew. Please enquire if you would like to visit this area.
Note: The above, is a sample itinerary and is subject to change without notice. The itinerary will depend on several factors including, but not limited to, weather, diving ability of guests & the number of other boats already present at the various dive sites. All dive sites visited are subject to weather conditions and are at the discretion of your dive guides and vessel captain.
×