Deep South
Departing from Port Ghalib
This tour is slightly more challenging, offering big drop-offs overgrown with huge gorgonians and colourful soft corals. On this safari divers will have the opportunity to explore a variety of truly unique dive sites home to some very interesting and unusual reef formations. This itinerary is perfect for divers wanting to experience a slightly more 'untouched' Red Sea and is not to be missed.
QUALIFICATION NEEDED:
You must be a PADI Open Water diver or equivalent to join this safari.
As with all diving activities, the dive guide has the final decision regarding any divers competency to complete any particular dive.
Itinerary Highlights:

This itinerary focuses on the beautiful reefs of Elphinstone, Fury Shoal and St.John's. Divers will have the opportunity to explore the unique reef formations and the abundance of marine life that lives at each dive site.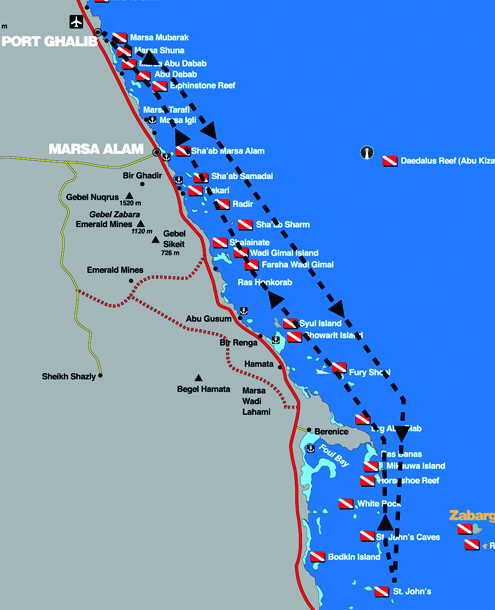 Elphinstone Reef
A Red Sea legend. One of the most beautiful reefs, with north and south plateau's covered in hard and soft corals. This is a truly awesome reef.
Fury Shoal
An immense chain of reefs creating a host of outstanding dive sites including Abu Galawa in the north to Sataya in the south. Have fun exploring wrecks, caves, tunnels, coral gardens, plateaus and drop offs! Abu Galawa is located within Fury Shoal - have fun exploring the wreck of 'Tug Boat'. The reef also has good coral dives on the west side.
St. John's Reef
Exciting drop-offs overgrown with huge gorgonians and colourful soft corals, stunning coral gardens and safe anchorages for night diving. Barracudas, Tuna and Mackerel are often sighted here and on rarer occasions Manta Rays and Dolphins. Hammerheads, Grey sharks, Silvertip Sharks and White tip Reef Sharks can often be spotted out in the blue.
St. John's Reef North
Located one hour north of the main St.John's area. Have fun finding your way through tunnels and around pinnacles. Due to the locations of the dive sites visited on this itinerary there will be a substantial amount of travelling during the safari. This may mean that it is only possible to complete 3 dives on certain days.
Note: The above, is a sample itinerary and is subject to change without notice. The itinerary will depend on several factors including, but not limited to, weather, diving ability of guests & the number of other boats already present at the various dive sites. All dive sites visited are subject to weather conditions and are at the discretion of your dive guides and vessel captain.
×