Simply the Best
Departing from Hurghada or Port Ghalib
A great all-round tour for divers with slightly more experience; this safari offers challenging dives, big drop offs, beautiful coral walls and plenty of large fish. There is so much to see you are spoilt for choice, but don't forget to keep an eye out to the blue... you never know what you might see!
QUALIFICATION NEEDED:
You must be a PADI Open Water diver or equivalent and have logged a minimum of 30 dives to join this safari.
As with all diving activities, the dive guide has the final decision regarding any divers competency to complete any particular dive.
Please note that night diving and snorkelling will only be allowed on some parts of this itinerary as it includes marine parks where this is prohibited.
Itinerary Highlights:
Taking in the world-famous marine parks at Brothers and Daedalus, this thrilling itinerary of spectacular drop offs is perfect for divers keen to glimpse some big animals oat these remote off-shore reefs.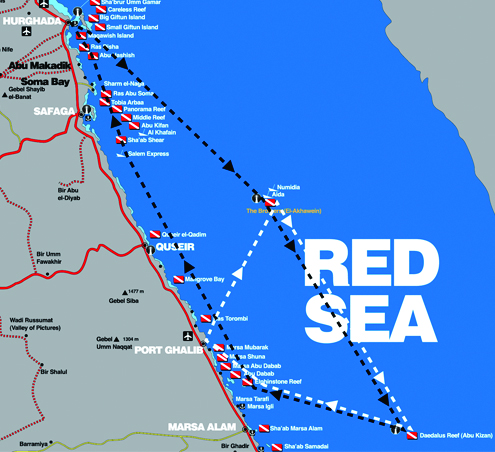 Big Brother
A 400 metre long island offering fabulous wreck diving and wall diving. The wreck of the Numidia lies on the northern tip between 10 and 80 metres. The north-west side of the island houses the wreck of the Aida. On every section of this reef the wall is covered with corals and life.
Little Brother
Boasts a very high concentration of life within a very small area. Fan coral forests, overhangs, hard and soft corals in a variety of astonishing colours… and of course there are plenty of fish! With regular sightings of hammerheads, thresher sharks, grey sharks and white tip reef sharks, at the right time of year.
Daedalus
This huge tear drop shaped reef rises from the seabed in the middle of the Red Sea. The sheer walls are covered in overgrown hard coral formations and a variety of reef fish. Napoleon wrasses and turtles are often cruising by. Daedalus is one of those places where anything can happen...oceanic whitetips, grey reefs and thresher sharks are often sighted, but Daedalus is most famous for its scalloped hammerhead sharks which can often be seen in large schools out in the blue during the summer months.
Elphinstone Reef
A Red Sea legend. One of the most beautiful reefs, with its north and south plateau's covered in hard and soft corals and visiting pelagics, this truly is an awesome reef. Due to the locations of the dive sites visited on this itinerary there will be a substantial amount of travelling during the safari. Please note that there will be no night diving when visiting the marine parks on this itinerary as it is not permitted.
Note: The above, is a sample itinerary and is subject to change without notice. The itinerary will depend on several factors including, but not limited to, weather, diving ability of guests & the number of other boats already present at the various dive sites. All dive sites visited are subject to weather conditions and are at the discretion of your dive guides and vessel captain.
×