Best of the Red Sea
Departing from Port Ghalib
Exactly what it is called, this tour takes in the best of what the Red Sea has to offer. World famous dive sites make up this memorable itinerary - including Elphinstone, Daedalus, Rocky Island, Fury Shoals and the Island of Zabargad.
QUALIFICATION NEEDED:
You must be a PADI Open Water diver or equivalent and have logged a minimum of 30 dives to join this safari.
As with all diving activities, the dive guide has the final decision regarding any divers competency to complete any particular dive.
Please note that night diving and snorkelling will only be allowed on some parts of this itinerary as it includes marine parks where this is prohibited.
Itinerary Highlights: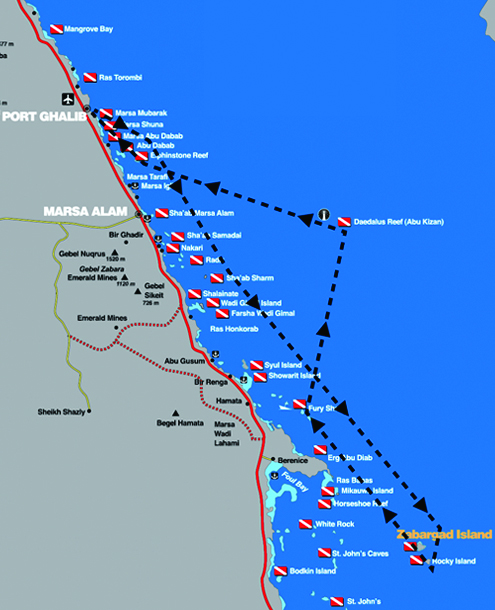 Day 1: Check out dive in Port Ghalib before heading South for an afternoon dive.
Day 2-3: Rocky & Zabargad Island
Rocky Island hosts a fringing reef that circles the entire perimeter of the island, dropping steeply to astonishing depths, although the most interesting features and life are found above 12m. Watch the blue for life but take care for the currents.
The Island of Zabargad is an amazing dive spot. It is characterised by an enormous mountain reaching out of the water, surrounded by a lagoon and circling reef. There are a couple of wrecks and some decent diving with a great variety of both corals and reef fish.
Day 4: Fury Shoals
This large cluster of reefs offers unforgettable and easy dives. From the northern site of Small Abu Galawa to its most-southern site of Sataya, Fury Shoals can prove to be surprising and diverse

Day 5: Daedalus
Daedalus is a huge reef formation that lies at about 180 km south of Brother Islands. The reef is surrounded by a sheer wall and strong currents allow for fantastic drift diving. The hard corals grow to huge sizes but also keep an eye on the blue!
Day 6: Elphinstone Reef
This is a legend in the Red Sea. One of the most beautiful reefs, with its north and south plateau's covered in hard and soft corals and visiting pelagics, this truly is an awesome reef. Due to the locations of the dive sites visited on this itinerary there will be a substantial amount of travelling during the safari.
Note: The above, is a sample itinerary and is subject to change without notice. The itinerary will depend on several factors including, but not limited to, weather, diving ability of guests & the number of other boats already present at the various dive sites. All dive sites visited are subject to weather conditions and are at the discretion of your dive guides and vessel captain.
×