Best of Wrecks
Departing from Hurghada or Port Ghalib
The aim of 'Best of Wrecks' is to provide a week of heavy metal for divers who love exploring wrecks. This itinerary follows a North and Brothers route and during the week, divers will experience the excitement of diving famous wrecks of the Red Sea, including the SS Thistlegorm, Carnatic, Ulysses, Ghiannis D and the Dunraven. The week will offer the opportunity to learn about the history of the wrecks and enjoy fantastic diving on some of the most unique Red Sea wrecks.
QUALIFICATION NEEDED:
You must be a PADI Open Water diver or equivalent and have logged a minimum of 30 dives to join this safari.
As with all diving activities, the dive guide has the final decision regarding any divers competency to complete any particular dive.
Please note that night diving and snorkelling will only be allowed on some parts of this itinerary as it includes marine parks where this is prohibited.
ITINERARY HIGHLIGHTS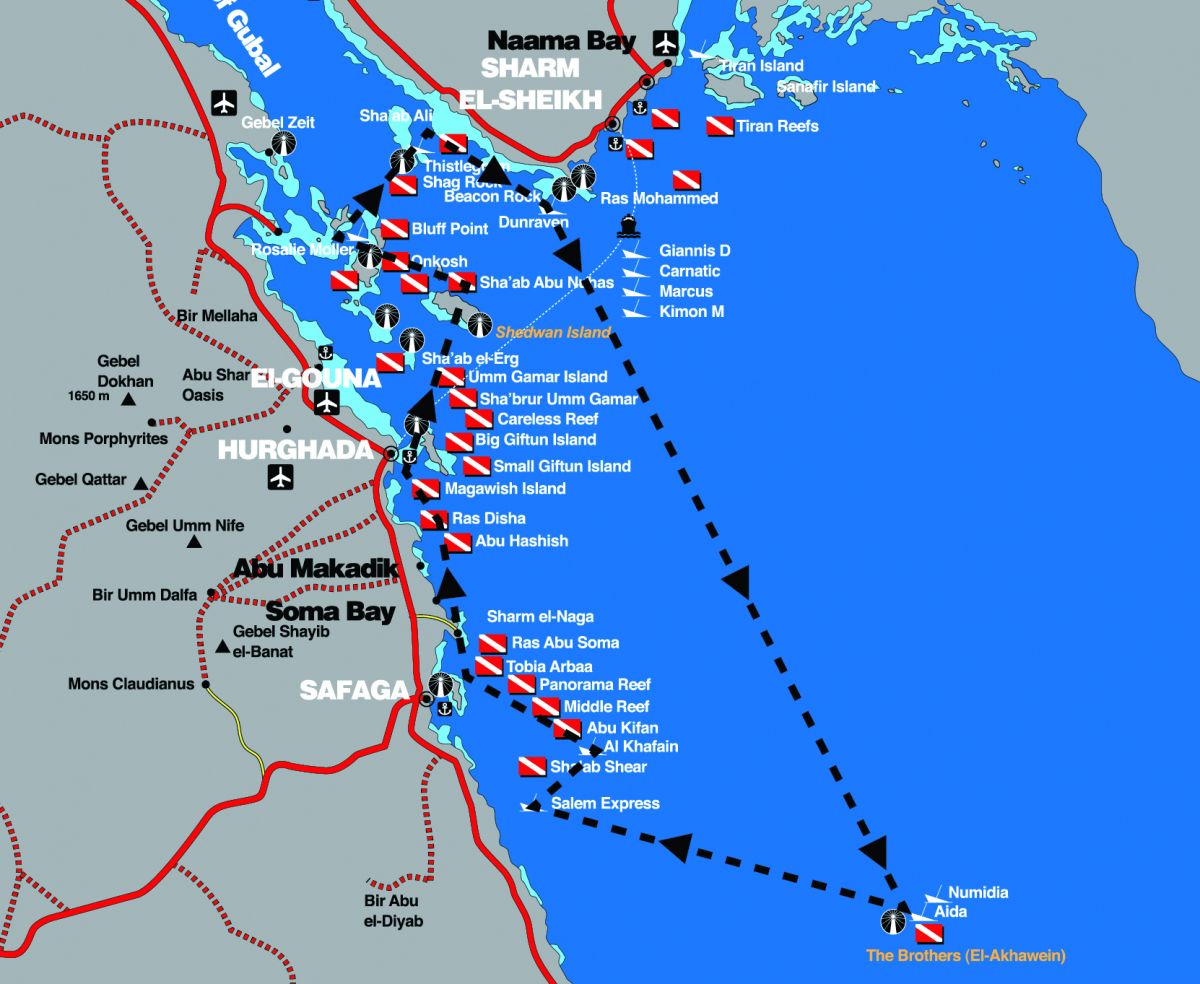 Best of Wrecks allows divers who love wrecks to dive just that, so really anyone who has an active interest in wreck diving will love this itinerary. However, it is also interesting to bare in mind is that many of these Red Sea wrecks have been underwater for a very long time and have formed what you might call 'artificial reefs', teeming with life. This itinerary would therefore be enjoyed by all divers, not just the wreckies amongst us!
SS. Thistlegorm
Probably the most famous of the Red Sea wrecks. The 129m English Freighter was bombed by German aviation on 6th October 1941. Today she creates an artificial reef on a sandy bottom at 32m max depth. She is home to an enormous variety of marine life and is especially popular with large schooling fish.
Abu Nuhas
Also known as the 'Ships Graveyard', this reef is dangerously positioned close to the busy shipping lanes of the Gulf of Suez. This reef has claimed more ships than any other in the area. On the north side are four wrecks laying on a sandy seafloor at the bottom of a steep sloping reef layered with table corals. On the south side is a safe anchorage for liveaboards and two ergs, known as Yellow fish reef.
Ghiannus D - Abu Nuhas
In 26m of water and leaning to port with a fully intact stern section and an impressive engine room packed with glass fish.
Carnatic - Abu Nuhas
A British P&O steamer which struck the reef in 1869. She lays in 29m and now the whole hull is draped in multicoloured soft corals. The wreck is home to glass fish, octopus, morays, jacks and tuna cruise overhead.
Salem Express- Safaga
Wreck enthusiasts are often drawn to Safaga to visit the Salem Express, an Egyptian passenger ferry that sank on its return journey from Mecca in 1991. 300 victims perished in one of the greatest marine tragedies of all time. This is a stunning site but a dive that is generally considered one for reflection rather than pleasure.
Big Brother
A 400 metre long island offering fabulous wreck diving and wall diving. The wreck of the Numidia lies on the northern tip between 10 and 80 metres. The north-west side of the island houses the wreck of the Aida. Every section of this reef is covered with corals and life.
Note: The above, is a sample itinerary and is subject to change without notice. The itinerary will depend on several factors including, but not limited to, weather, diving ability of guests & the number of other boats already present at the various dive sites. All dive sites visited are subject to weather conditions and are at the discretion of your dive guides and vessel captain.
×