Got a non-diving partner?
Monday, 12 November, 2012 - 14:49, Emma Mackenzie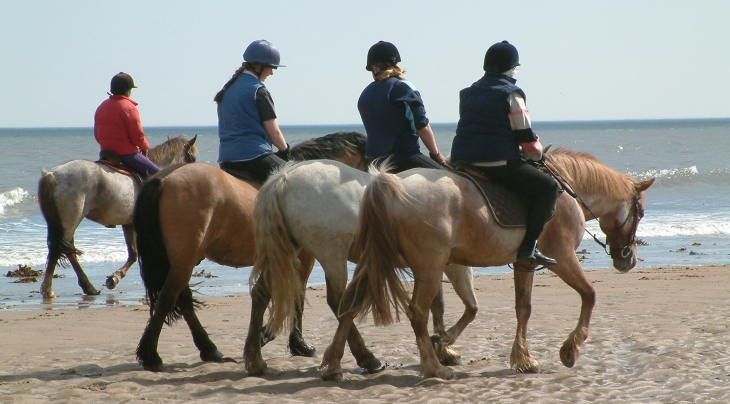 If you're itching to slip into a wetsuit and fins on holiday, but are worried you'll feel the wrath of your non-diving partners boredom then read on... There are plenty of diving resorts perfectly suited to those water adverse other halves.
Whatever their preference, be it pampering in a top spa, getting active hiking and horse riding, or soaking up the culture in a traditional temple... Resorts with house reefs are a good option for you offering flexible shore diving. Many dive centres also offer half day diving so that you can spend more quality time together - whilst still getting that all important diving fix!
El Gouna is a luxury resort built in traditional Arabic style. The resort boasts a huge range of facilities so your reluctant other half will have plenty to keep them busy. Resort activities include an open-air cinema and a professional 18-hole golf course along with a museum, desert safaris and horse riding!
The Movenpick Hotel is a five star complex with a variety of things to do so your partner can choose to be as active - or not, as they may wish! There are extensive leisure facilities, including tennis, squash, watersports, and gym. The Angsana Spa offers a wide range of beauty and wellness treatments, using a fusion of techniques from East and West to refresh and rejuvenate body, mind and spirit.
Emperor Divers dive centre is located on-site at the hotel, and your non-diving partner is usually welcome aboard your day dive boat if they fancy a little snorkelling and the chance to sun bath and socialise on deck.
The hustle and bustle of lively Sharm is enough to keep anyone entertained! Ideally located in Naama Bay, the Hilton Fayrouz has its own large private beach. There are a range of sporting activities available, including tennis, squash and volleyball, and various watersports. There is also a fitness centre and a health club with Jacuzzi, sauna and massage for that all important pampering.
Our dive centres give the option of half day diving, so you get the best of both worlds. Time with your non-diving partner to enjoy all that sunny Sharm has to offer - and great diving in the popular waters of the Red Sea. Experience the exciting dive sites of Ras Mohammed Marine Park and then take an excursion including camel safaris and horse riding.
Grenada is a mountainous Caribbean island of volcanic origin. The dramatic interior is defined by cascading waterfalls, mountain lakes and tropical rainforest whilst its coastline boasts forty-five beaches. Grand Anse beach is the most famous on the island, with two miles of fabulous white sand and a nice choice of bars and restaurants.
For active types, the most popular area in Grenada for hiking and trekking is the rain forest around the Grand Etang Lake, in the central part of the island. There are ample opportunities for hiking - Grand Etang Lake and National Park is a crater lake surrounded by lush tropical forest. A series of trails have been marked, and hiking them is well worth the effort. The scenery is breathtaking, with the chance to see a fascinating cross section of the flora and fauna which make up this rain forest. The trails meander around the area's stunning waterfalls as well as the blue waters of Grand Etang Lake.
The capital, St George, is considered to be one of the most attractive towns in the Caribbean with its horseshoe shaped harbour. No visitor to Grenada should miss the Saturday morning market at St George, one of the most colourful in the Caribbean. Most of the roads are in good condition and hiring a vehicle is a popular way of exploring the island and offers as much for the diver as their non-diving partner or friend.
True Blue Bay offers an award winning restaurant, sailing and kayak hire, and local tours. Aquanauts dive centre is located on-site and provides half day diving opportunities so there's plenty of scope to balance fantastic diving, including wrecks, sculptures and colourful reefs, with other partner pleasing pursuits...
Thailand enjoys a deserved reputation as one of the most beautiful and welcoming countries in South East Asia. Patong Beach on Phuket not only offers access to some fantastic diving, but there's also plenty to keep your non-diving partner occupied above water! Activities on offer include golf, whitewater rafting, elephant trekking and a jungle safari! The early morning food market in Phuket is not to be missed. If you're after something a little different, partake in a Harley Bike Tour to see spectacular scenery and meet friendly locals!
Situated on a secluded private beach, the Amari Coral Beach Resort offers a unique location with panoramic views over Patong Bay. The hotel's position on the southern headland of Patong Bay makes it a perfect choice for those who are looking to combine a quiet secluded resort with easy access into the lively resort of Patong, only 10-15 minutes walk away (or 5 minutes via tuk tuk!). The hotel's fabulous Sivara Spa offers a range of soothing treatments including Thai and oil massages, body polishes and wraps, facials, water treatments and classic beauty therapies - so that should keep the other half happy for a while!
Bali is renowned for its friendly population and beautiful scenery. The island has a rich cultural heritage, set against a backdrop of volcanic mountains that rise to 3,000 metres above sea level. There is a lot for visitors to enjoy in Bali, whether it is trekking in the island's interior, visiting historic temples or witnessing one of the many festivals that are a feature of Balinese life.
The relaxed Alam Anda offers access to some of Bali's finest dive sites, including the Liberty Wreck in the Tulamben region. Werner Lau dive centre is on site. Partners will enjoy the hotel's wonderful natural spa, offering a number of treatments including a vigorous Indonesian Body Massage. Only natural products with healing and invigorating elements are used. The hotel also organises half or full day tours through the local villages of the area, including trips to Ubud, the cultural capital of Bali. Adventure trips are on offer ranging from trekking Bali's mountains to rafting down the Ayung Stream.