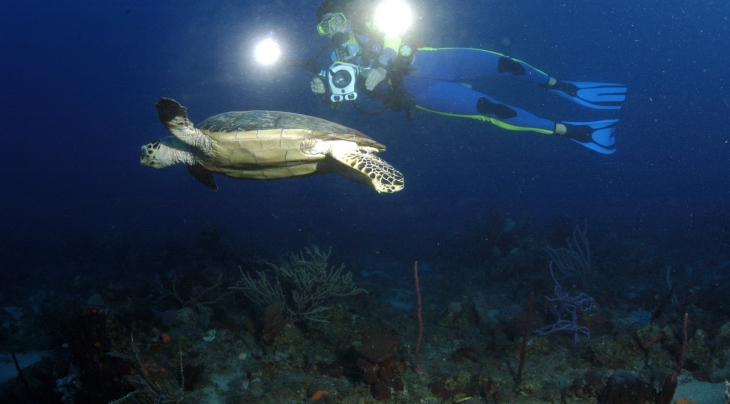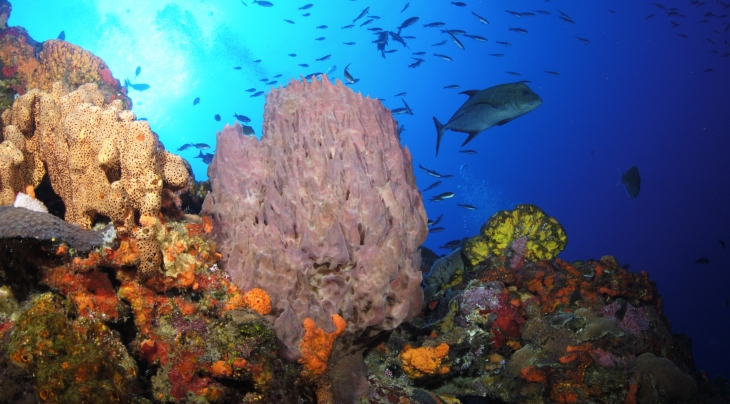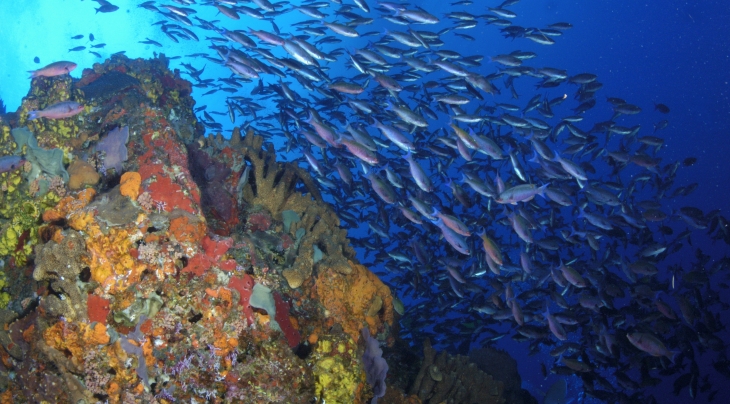 St. Kitts & Nevis, Statia, Saba & St. Maarten Island group
The North Eastern Caribbean is an intriguing area offering a blend of Dutch, British, French and native cultures on some of the most scenic islands of the Caribbean.
Sitting north-east of Monserrat, Guadeloupe and Dominica, these colourful and multi-cultural islands offer a lovely mix of above and below water beauty. The diving is diverse, with a wealth of coral colours on shallow pinnacles, walls, sandy gullies and deeper marine sea mounts. On land, picturesque coves with brightly coloured fishing boats, laid back villages and lush rainforests offer the chance to experience a little Caribbean life.
St. Kitts & Nevis, Statia, Saba & St. Maarten
The diving is diverse, with a wealth of coral colours on shallow pinnacles, walls to drift by, sandy gullies with wonderful light and deeper marine sea mounts at 20 - 30 metres. Sponges and sea fans crowd together in a low lying water forest for macro species and schooling fish to hide.
The marine life provides divers with multiple sightings of moray eels, hawksbill turtles, jacks, barracuda and stingrays and divers will also find frogfish, seahorses and nudibranchs buried in the reefs.
Usual water conditions are calm and warm with great underwater visibility. Across the islands, the dive sites offer fantastic hard and soft corals, reef plateaux, pinnacles and walls.
Owing to the structure of many of the reefs, the calm, warm water conditions and proximity to landfall, this destination also offers a fantastic holiday for snorkelers and non-diving partners.
The majority of the Caribbean Explorer II's itinerary is spent in the area of Saba and St. Kitts.
Saba Marine Park and sea mounts
In 1987, the culmination of 3 years' work between Tom van t'Hof (who played a key part in the set up of Bonaire's marine Park in 1981), the Saban government, Saban locals, dive shops and fishermen resulted in the early establishment of Saba's Marine Park. This has resulted in the conservation of its reefs to a very high degree and the benefits to fish stocks are clearly visible. It is also home to a hyperbaric chamber.
Saba offers 30 quiet dive sites, all within the confines of the park. Just off the west of Saba lies a smaller volcanic sea mount that offers 4 dive sites, with dramatic drop offs, walls and gullies.
St. Kitts & Nevis' little wrecks
The wreck of the M.V. Corintian (The Tug) lies at an easy 18 - 20 metres, with a lovely reef encrusted around the bow, growing towards the surface.
M.V. Talata has a small volcanic vent to keep you even warmer around the wreck, close to the capital's harbour of Basseterre, lying at less than 18 metres.
These shallow dives provide plenty of interest at the beginning or end of your liveaboard diving week.
Regaldive also feature Bahamas liveaboard trips aboard the Carib Dancer.
Flights
Into St. Kitts with British Airways*
Outbound: London Gatwick - St. Kitts (touchdown in Antigua)
Saturdays & Tuesdays: BA2157 LGW 10.40 - SKB 16:20  
Inbound: St. Kitts - London Gatwick (touchdown in Antigua)
Saturdays: BA2256 SKB 17:55 LGW 08:30 +1 next day
Tuesdays: BA2156 SKB 18:15 LGW 08:50 +1 next day
A flight from St.Maarten to St. Kitts on LIAT Air or similar will be arranged on day of disembarking if required, as part of your package.
*Sample schedule. Please check your confirmation and tickets for final flight details.
Flight Duration: 9½ to 10 hours
Departure tax: $20 - $30. Please refer airline notes on confirmation.
Passports & Visas
Please always check your own entry requirements regardless of your nationality. Your passport should always have at least 6 months validity on date of return travel.
British Nationals are currently granted one month tourist visa on entry.
Always check for last minute changes in entry requirements on the Foreign & Commonwealth Office website. 
Nationalities other than British citizens should check with their own consular office.
Vaccinations
Vaccination requirements are subject to change and should be confirmed before departure. For the most up to date advice please consult your travel clinic or GP. Further information regarding vaccinations for travel to this country can be found at www.fitfortravel.nhs.uk and from your local healthcare provider. 
There are no compulsory vaccinations for travel to St. Kitts & Nevis, but we always recommend protection against typhoid, tetanus, hepatitis A and polio.
Worldwide Offers
Great Savings on Liveaboards
Various dates in 2012 and 2013
Take advantage of great deals on liveaboards around the globe. Regaldive work with a number of liveaboard fleets, meaning that we have a huge amount of choice and are able to offer you the best price available - check our availability and prices here!
Caribbean Liveaboard Vessels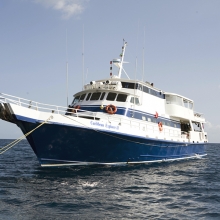 The 32 metre, aluminium built Caribbean Explorer II can comfortably accommodate 18 divers, in 9 en-suite cabins.