Learn to Dive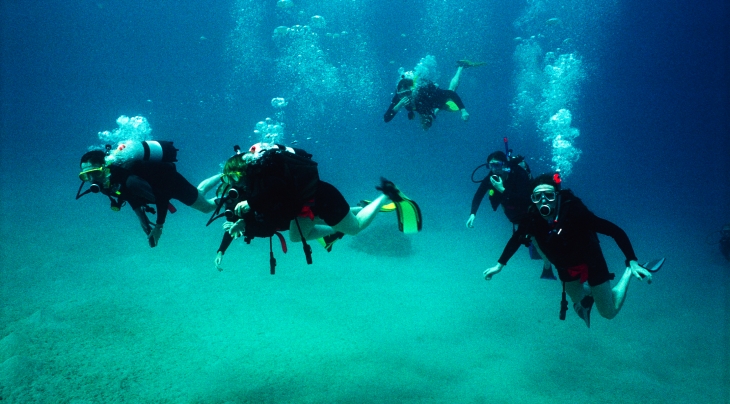 Please note: Prices, contents and structure of courses may vary slightly in different resorts. 
Should I Learn to Dive?
Diving is your passport to a fascinating world of weightlessness, to a carnival of exotic marine creatures, to the astonishing architecture of fantastically coloured corals, to a museum of ancient history and so much more…
Explore the world underwater! Diving is a fantastic experience that will add a whole new dimension to your travels. The oceans make up over 70% of our planet – so why restrict your holiday options to 30% of the world?
Take your first breaths underwater with Regaldive and you'll be hooked on diving for life!
Learn to Dive Guarantee 
You can't lose! We are so confident you'll love diving we'll give you your money back if you don't! If, after the first day of tuition, you find that diving is not for you and decide not to continue the course, Regaldive will refund your course fees and you can continue to enjoy the rest of your holiday. No refunds can be given after the first day. Please note that the Regaldive Learn to Dive Guarantee does not apply during special promotions / offer dates.
The Learn to Dive Guarantee is available with Emperor Divers, Orca Dive Clubs and Divers' Lodge in the Red Sea. 
Courses applicable for full refund booked through Emperor Divers include the PADI Open Water course, and the PADI Fastrack course less £45 for materials. Courses applicable for full refund booked through Orca Dive Clubs and Divers' Lodge include the PADI Open Water course.
Which Is The Best Course For Me?
There are several ways of starting out. All the courses we offer are integrated so that every bit counts towards your next qualification. This means you can learn at your own pace and fit it in with your time scale and budget. You can even start before you go on holiday!
How Fit Do I Have To Be To Learn To Dive?
Diving is an exciting sport but you don't have to be an Olympic athlete to take part. People of all ages, shapes and sizes can dive! For safety, you should be able to swim 200m unaided and be confident in the water. There is a health checklist you should consult before deciding to take the plunge. Contact us for more details.
Pre-Book For Best Value
We recommend that you pre-book your dive course as part of your holiday package. This guarantees the best price for you and secures your place. If you are unsure about which course to sign up for then our reservations team will be happy to advise you.
Who Will Teach Me To Dive?
PADI (Professional Association of Dive Instructors) is an internationally recognised organisation which co-ordinates training. All the dive centres and schools used by Regaldive are PADI accredited and operate to the same professional standards. Many of our centres are PADI 5 Star Career Development Centres and are award-winners in their field. Some of our training partners also offer courses from the British Sub-Aqua Club (BSAC).
Dive Courses
Please note: Prices, contents and structure of courses may vary slightly in different resorts.
Free Try Dive 
Try a 30 minute pool session using scuba equipment FREE! As Free Try Dives are subject to instructor availability, please arrange this locally with the dive centre. If you enjoy the Try Dive, you can book the full PADI Open Water Course with our local representative and benefit from the Regaldive prefered rates. Free Try Dives are available with Emperor Divers in the Red Sea. Free Try Dives are subject to availability and must be booked locally.
Discover Scuba Diving - from £59
This one-day course lets you experience the thrill of diving under the supervision of a PADI instructor. Discover Scuba Diving includes one pool session and one open water dive, and counts towards a PADI Open Water qualification. The training will teach you some basic diving concepts and skills with the option to continue with further courses on Day 2. Equipment is usually included.
PADI Scuba Diver - from £136
Perfect for holiday divers or people who only plan to dive a couple times a year. This is a two-day course with three theory sessions, three pool sessions and two open water dives. Throughout the course, you will learn fundamentals of scuba diving, including dive techniques and the equipment you use. Once completed, it qualifies you to dive to 12 metres with a Divemaster. This course can follow on from a Discover Scuba Diving course and be followed by further training, within one year, to achieve full Open Water diver certification. Equipment is usually included.
PADI Open Water - from £212
This is your passport to the amazing underwater world! Once completed, your internationally recognised certification allows you to dive with any qualified diver to a maximum of 18 metres. The course duration is approximately three to four days as we understand that each individual learns at a different pace and that some skills and techniques may take a little more practice to reach a comfortable and confident level.  The course consists of five theory and five pool sessions plus four open water dives. This course will teach you a range of skills, which will enable you to dive in a safe and enjoyable environment as a buddy pair. Equipment is usually included for the course duration.
Please note that all those taking the PADI Open Water course will need to purchase a PADI Open Water manual. These are available to buy from Regaldive.
Fastrack Open Water - from £269
An increasingly popular way of completing the PADI Open Water course that cuts down on classroom time in resort. Regaldive will send you the PADI Open Water manual and your choice of video or DVD at the time of booking. This gives you the opportunity to progress with the theory at home, meaning you can qualify as an Open Water diver in three days.
On Day 1 in resort your instructor will confirm your understanding of the manual by checking that you have completed the knowledge reviews in your manual. You will then progress to the first pool session. This first day is fairly intensive and fast moving, so it is very important that you complete your home study. On days 2 and 3 students complete qualifying dives.
The main benefit of the Fastrack course is that you can complete the pool training and open water qualifying dives in three days. This leaves a further three days free to explore the wonders of the Red Sea as a qualified diver.
Includes equipment hire, all learning materials, logbook and dive planner. Available at Emperor Divers centres in the Red Sea, Divers' Lodge in Hurghada and Werner Lau in Sharm.
This is an intensive course whilst in resort. Hence, the theory must be completed before you depart to resort as well as watching the DVD provided. If the dive centre instructor determines that any student has not prepared prior to arrival or they are not able to complete the course on the Fastrack basis, they will be transferred to the normal PADI Open Water Course. Regrettably, no refunds will be available for the crew pack which has been sent by Regaldive and no refunds will be available for the pre-booked day diving that may not be used if the instructor feels that you are required to complete the PADI Open Water Course rather than the Fastrack Course.

Referral Courses - from £136
A Referral course is great for those who have already completed their theory and pool dives in the UK. It allows the student diver to complete just the Open Water dives, in the warm, clear waters of the Red Sea. Includes four qualifying open water dives and usually equipment plus 3 days diving without equipment.
To complete your qualification you need to take with you two passport sized photos. You may also have to pay approximately €35 per person for certification fee per course, although this is included in some courses.
We are happy to answer your questions and help with advice. Please call us on 01353 659 999.