Frequently Asked Questions
Regaldive are able to answer any questions that you may have. If you still need assistance then please do not hesitate to call our friendly team on 01353 659 999.
1. What do Regaldive do to minimise their impact on the environment?
Regaldive have been working with responsible local suppliers for many years. We feel strongly that we have a duty to help minimise, wherever possible, any negative impacts of tourism on local communities and the environment. Regaldive are proud to support the Marine Conservation Society (MCS) and also work alongside Climate Care to offset carbon emissions. View our Responsible Tourism page for full details >
2. Is my money safe if I book with you?
Yes! The air holiday packages offered by Regaldive are ATOL protected, since we hold an Air Travel Organiser's Licence granted by the Civil Aviation Authority. Our ATOL number is ATOL 2990. This means that your money is completely safe. What's more, we've been around for over 20 years, and have the security of being part of a larger group, Holidaybreak Limited. Holidaybreak is owned by Cox & Kings Limited which is one of the oldest and most recognised travel operators in the world and based in India.
Many people do not realise that when you book elements of your holiday separately (such as flights, accommodation or overseas dive packages) you may not have adequate financial protection - meaning that if the operation goes bust, you could loose your money.
Booking with a tour operator such as Regaldive, who are ATOL protected means that your money is secure. This allows you to book with confidence, leave the organising to us and get on with enjoying your diving holiday.
3. Why should I book my dive pack in advance - is it really cheaper?
There are three distinct advantages in reserving your diving in advance.
Firstly, you can be confident that the dive centre you will be booked with is a safe and reputable dive centre in that destination.
Secondly, if you are travelling during a busy time (and remember that just because it is not a busy time in the UK to travel, does not apply to other nationalities from other countries), there is no guarantee that the dive centre will be able to offer you what you would like in the timescale you have in mind. This particularly applies to courses, where divers to instructor ratios change according to the type of course, the age of people participating, prevailing local conditions etc.
Thirdly, in the majority of cases, you will pay less for your dive package when reserving in advance, due to the agreements we have in place with our longstanding suppliers. Sometimes, one forgets to take into account local taxes, bank charges, fixed local exchange rates and local credit card charges before calculating the true cost of what you are booking direct.
In short, it should give you more peace of mind.
4. Where can I get the full Regaldive booking terms & conditions?
To view Regaldive's booking conditions go to www.regaldive.co.uk/booking-conditions.
5. How do I book with Regaldive?
Call Regaldive on 01353 659 999.
In order to confirm your booking we will need the following:
All passengers' titles, first and surnames AS ON THEIR PASSPORT (we recommend you provide the names by email to avoid mistakes). Please advise us of any meal requirements or special requests.
We require details of a form of payment to go ahead and hold your flight and confirm all services. No payment is taken until all services are confirmed.
The majority of Regaldive's programme outside of the Egyptian Red Sea is tailormade. This means we book the services according to each individual's personal travel itinerary. We can therefore only request and confirm availability once we receive your payment details; the volume of enquiries we receive and the fact that suppliers will not hold provisional bookings means bookings needs to be definite to be guaranteed.
Due to the nature of the suppliers, countries and time zones that we work with, replies can sometimes take up to 2 working days; invariably it is less and some suppliers do have online trade booking services that Regaldive can access.
If possible, please also provide your dive qualification level, number of logged dives and passport numbers at time of booking.
Deposits and Payment
Full balance is due 70 days prior to departure. For bookings made within 70 days of departure, full balance is payable at time of confirmation. Deposit levels are listed below and only apply for bookings made 71 days or more before departure. If taking Regaldive's insurance, cost of this will be paid on top of the deposit amount at time of confirmation. Please note that for certain holidays a larger deposit (non refundable) will be required. This will be advised at the time of booking.
£150pp for a Red Sea holiday
£200pp for Red Sea liveaboards and Fastrack course
£250pp for a Worldwide holiday (£400pp using Singapore Airlines)
£500pp for Worldwide liveaboards (except all Galapogos liveaboards)
£850pp for a Galapagos liveaboard
We do not charge a card fee for deposit payments. However, a charge of 1.75% is made for further payments using a credit card or 2.25% for Amex cards. There is no fee if using a Maestro/Switch, debit cards or for balances paid by cheque or bank transfer.
Once we have received your deposit payment and after all elements of your trip are confirmed, we will despatch a confirmation invoice. Please check the invoice thoroughly, informing Regaldive of any discrepancies within 24 hours of receipt.
Please complete the booking form and return to Regaldive.
About two weeks before departure, we will despatch your tickets and travel documents. Please check all items carefully.
Late Bookings
We are happy to handle late bookings at no extra charge, unless 'ticket on departure' charges are levied. These are usually £15 per person. If you book within 14 days of departure, we will require credit or debit card details. Late bookings are on a request basis and your credit or debit card will be automatically debited for full payment when availability is confirmed.
Please ensure you read the Medical and Insurance information >

6.

Why do you need lots of information?
Advance Passenger details are required for each passenger travelling in your party. These are required by both airlines and resort suppliers under current rules.
Details required:
a) Passport Information (passport number, issue and expiry date, place of issue and nationality)
b) Emergency contact details (A friend or relative based in the UK at time of travel)
c) Insurance details (Issuing company, policy number and 24hr emergency assistance telephone number applicable to your policy)
Regaldive require these details to obtain the relevant permissions with the local Authorities for your trip as well as ensuring that appropriate contact details are available in the event of any emergency. Also, most airlines also require passport information for booking flights.
7. What is my baggage allowance?
Baggage allowance can vary for each airline. As a general rule you are usually allowed 20kg for the hold and 5kg hand luggage (on a chartered flight), and 7kg hand luggage (on a scheduled flight). Some airlines offer an additional allowance for divers on production of a valid PADI or BSAC card, but if this is not the case then you will be expected to pay a charge for any extra weight. Regaldive will not cover any excess baggage charges incurred. If you have a booking with us, your flight will be confirmed 8 weeks prior to departure and you will be able to check your baggage allowance.
8. I haven't been diving very long and am not sure how to go about taking the next steps
We have a dedicated area on our website for newly qualified divers which should answer all of your questions and alleviate any worries. Please click here >
9. Is there pure Oxygen in a scuba tank?
Recreational divers breathe air, not oxygen. It's filtered to remove impurities, but otherwise, its air like you're breathing now.
10. What should I do if need emergency funds whilst on holiday?
We are aware that sometimes, in unusual situations, our customers may require access to emergency funds while still abroad. If so, we hope you will find the following information useful.
MoneyGram offer a speedy, secure and convenient service where cash can be picked up at a MoneyGram agent worldwide within 10 minutes. Call into a Thomas Cook / Going Places travel agent to send cash immediately.
Cash Passport - If you have a Cash Passport additional funds can be loaded onto your card by calling +44 1733 457 630.
11. Am I medically fit to dive?
Please refer to BSAC and PADI's medical forms, and the information available from the London Diving Chamber - click here >
12. What vaccinations and health requirements should I take into consideration?
Please check the National Travel Health Network and Centre (NaTHNaC) website, click here >
13. Insurance
It is a condition of booking that all Regaldive guests have Travel and Diving Insurance. Having good insurance cover is essential in the event of an incident whilst you are on holiday and/or diving. Regaldive is an Appointed Representative of Dive Master Insurance. Please click here for more information >
14. What are the Bends?
Air is made up of approximately 79% nitrogen, which on the surface, is easily cleared from the body. The deeper you are the more pressure your body is under. When gases are under more pressure they are more soluble in liquids, and as a result nitrogen is absorbed into bodily tissues at greater depths. During ascent, pressure is reduced which allows the nitrogen to be dissolved in the tissue. The nitrogen will try and make its way back out with less pressure, but it may exceed the body's ability to clear the gas.
If a diver has been deep for too long, or has ascended too quickly, there may be a build up of nitrogen upon surfacing, which could allow nitrogen inside the body to come out of saturation (similar to removing the lid from a shaken/pressurized fizzy drink can) causing bubble formation.
These bubbles may cause joint pain, sensory changes, limb weakness, and in severe cases paralysis and death, the symptoms being dependent upon location of bubble formation (joints, spinal nerves, spinal cord, etc.). This process is known as decompression sickness, or the bends. The onset of these symptoms generally occurs within 12 hours of surfacing from a dive (90% within 6 hours), however, a physician familiar with diving should be consulted anytime decompression sickness is a potential diagnosis.
15. Should I take my own Surface Marker Buoy (SMB)?
In the Red Sea, all divers need to dive with a Surface marker buoy as per CDWS guidelines. Most of our suppliers have extensive equipment rental services.
16. What extra benefits do you offer for Regaldive guests?
Regaldive give all guests travelling to the Red Sea a special discount card on arrival, so that you may benefit from some fantastic reductions across a range of services! For more details, visit our discount card page >
17. Air and water temperature chart for Regaldive's destinations
Click here to view a larger PDF >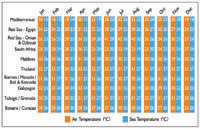 18. What do you do with my personal information?
Regaldive uses your personal information to provide you with any new features, destinations, or special offers which we think may be of interest to you. We may also use your information for internal administration of a booking and for analysis. We may need to disclose your information to third party providers of flights and tour services. However, we respect our customers' privacy and do not sell, rent, trade or give away any of your personal information for any purpose. Regaldive is registered on the UK Data Protection Register in the UK.
Data Protection Privacy Statement
For the purposes of the Data Protection Act 1998, we, Regal Diving and Tours, trading as Regaldive are a data controller. In order to process your booking, and brochure requests, provide your holiday arrangements and to help us provide you with a more personal service, we need to collect certain personal details from you. These details will include, where applicable, the names and contact details of party members, credit/debit card or other payment details and special requirements, such as those relating to any disability or medical condition, which may affect your chosen holiday arrangements and any dietary restrictions which may disclose your religious beliefs. If we need any other personal details, we will tell you before we obtain them from you.
We need to pass on your personal details to the companies and organisations who need to know them so that your holiday can be provided (for example your airline, hotel, other supplier, credit/debit card company or bank). Such companies and organisations may be outside the European Union if your holiday is to take place or involves suppliers outside these countries.
We and other companies in the Cox & Kings group ("Group Companies") would also like to store and use your personal details for future marketing purposes (for example, sending you a brochure or details of a promotion including by email). All details you give us in connection with your booking (including those relating to any disability or medical condition or your religious beliefs) will be kept by us but we and our Group Companies will use only names and contact details for marketing purposes (unless you have asked us not to).
We may also send you promotional information about selected third parties' products and services that may be of interest to you. When this happens, we remain in control of your data and it will not be shared outside the Cox & Kings group.
Occasionally we hire other companies to provide services on our behalf, for example mailing information to our customers. We only provide those companies with the personal details relating to our clients which they require in order to deliver the service. They are prohibited from using that information for any other purpose. We will ensure that anyone to whom we pass your details for this reason agrees to treat it with the same level of protection we are obliged to provide.
If you do not want us to do any or all of these things, please let us know as soon as possible.
Except where expressly permitted by the Data Protection Act, we will only deal with the personal details you give us as set out above unless you agree otherwise. We have appropriate security measures in place to protect this information.
You are generally entitled to ask us (by letter or e-mail) what details of yours are being held or processed, for what purpose and to whom they may be or have been disclosed. We will charge a fee to respond to such a request. We promise to respond to your request within 40 days of receiving your written request and fee. In certain limited circumstances we are entitled to refuse your request. If you believe that any of your personal details which we are processing are inaccurate or incorrect please contact us immediately.
As our privacy statement may change due to developments in the law, we would encourage you to reread our privacy statement from time to time so that you are aware of any changes in how we gather and use personal information.
19. Cookie Policy
What are cookies?
Cookies are small text files stored on a user's computer by their web browser, designed to store basic information (such as visitor preferences). When you visit a site that uses cookies for the first time, a cookie is downloaded onto your PC. The next time you visit the site, your PC checks to see if it has a cookie that is relevant (one containing the site name) and sends the information contained in that cookie back to the site.
For more information regarding deleting and controlling cookies, please visit http://www.aboutcookies.org
Our cookies policy
The Regaldive website uses cookies to identify how users interact with our site, so that we can see things like the most popular pages and the journey that users take though the site.
We can measure the number of users utilising specific services, so they can be made easier to use and we can ensure there is enough capacity to keep them fast.
Cookies used on our site are anonymous and contain no personal information or credit card details.
If you choose not to accept cookies, you can continue to use the site with no problem. You can turn off cookie settings, please refer to our managing cookies section for instructions.
First party cookies
These cookies are set by the domain of the website that you are visiting. The Regaldive website does not use any first party cookies.
Third Party Cookies
These cookies are set by a domain different to the one of the website that you are visiting. Regaldive uses a number of third party applications which set cookies to deliver the services that they are providing. Below is a list of third party suppliers, and the purpose of their cookies.
AddThis: Features for sharing via social media (Facebook, Twitter etc). AddThis track visitors who use any of their features.
Google Analytics: Collects information about how visitors use our site. We use the information to compile reports and to help us improve the site. The cookies collect information in an anonymous form, including the number of visitors to the site, where visitors have come to the site from and the pages they visited.
Facebook: Features for sharing via Facebook. Does not set a cookie by itself, but if one is present it will read it.
DC Storm Cookies: Collects information about how visitors use our site. We use the information to compile reports and to help us improve the site.
Managing Cookies
Regaldive will not use cookies to collect personally identifiable information about you. However, if you wish to restrict or block the cookies which are set by the Regaldive website, or likewise any other website, you can do this through your browser settings.
Please click here for instructions on how to manage your cookies >