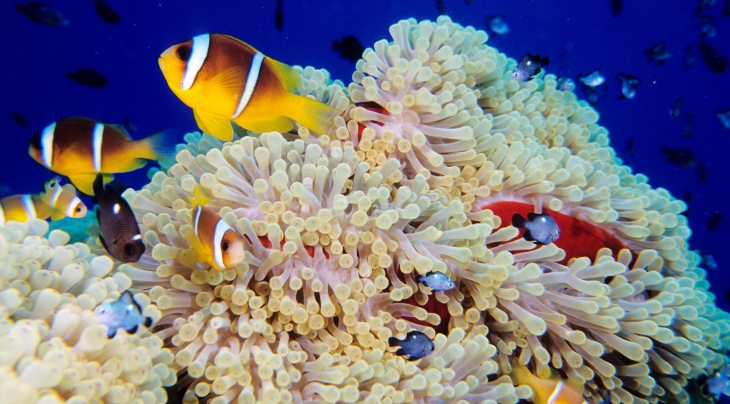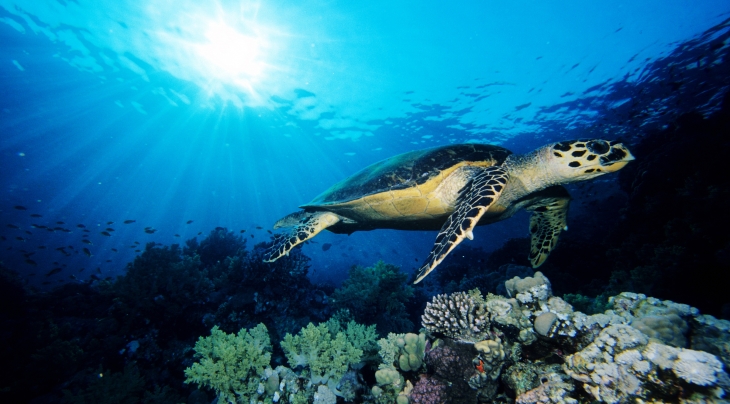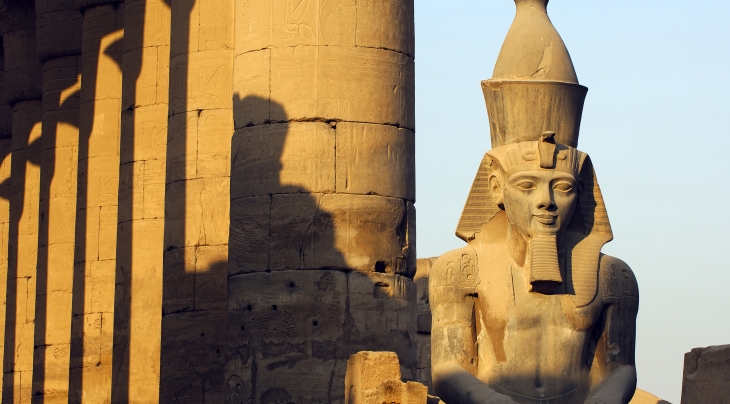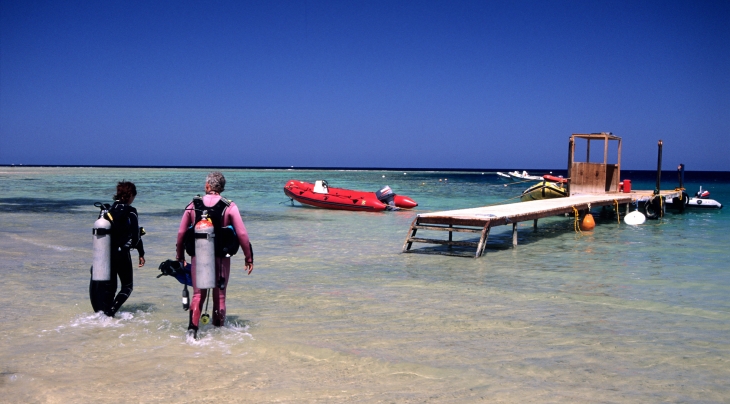 The Red Sea offers a truly unforgettable experience above and below water. Thousands of visitors a year are seduced by this area's unique combination of spectacular marine life, welcoming climate and stunning scenery.
A World-Renowned Dive Region 5 Hours Away...
An infinite variety of marine life attracts divers from across the world to the warm waters of the Red Sea. For UK divers, this world renowned dive destination is a short flight away. Outstanding water clarity and permanent sunshine affords the chance to discover this magical underwater world all year round.
The sheer volume of colourful marine life and corals is what defines the Red Sea. Divers and snorkellers can experience an impressive spectrum of invertebrates, ranging from over 200 different types of hard and soft corals, to crustaceans, sponges and hundreds of spectacular fish species.
This incredible variety of marine life is coupled with an amazing underwater topography of dramatic walls, drop-offs, wrecks and deep blue canyons.
Which Red Sea Destination to Choose...
Regaldive offers a choice of ten Egyptian Red Sea resorts and an impressive range of liveaboard options for those wanting to travel further afield. Hurghada, Sharm El Sheikh and Marsa Alam are your gateway to the Red Sea and are all established resorts with a unique and very different charm.
Flying into Sharm, on the Sinai peninsular, opens up a whole coastline of discovery where the mountains fall into the sea. The cosmopolitan resort of Sharm itself offers access to world-famous marine parks and wrecks. Further north, Dahab and Nuweiba are justifiably famed for their spectacular shore diving and access to the legendary Blue Hole.
Hurghada offers a glimpse of the real Egypt, with superb range of dive sites just a short boat ride away. The smaller resorts of El Gouna and Safaga are great options from which to explore the best of northern reefs and wrecks while staying just a short distance away from Hurghada itself.
The spectacular coastline to the south of Hurghada has opened up to reveal tranquil, pristine diving, and direct flights into Marsa Alam throughout the year mean that it is now even easier to access the impressive marine parks of the southern Red Sea.
The southernmost resort in the Egyptian Red Sea, Hamata is the ultimate in get away from it all diving, within pristine reef systems which have been relatively undived.
The Choice is Yours...
Whichever destination you choose, your Red Sea holiday can be a great combination of superb diving, beach relaxation and cultural discovery. With over seven centuries of history, there is so much more to do in Egypt than just dive!
The Red Sea is an ideal base from which to explore the wonders of the Pyramids, perhaps take a day trip to Cairo, go star gazing with the Bedouins or visit spectacular Luxor on the banks of the Nile. When you take a holiday in the Red Sea, you are surrounded by some of the most stunning scenery in the world. Here the richness of the seas is complemented by the starkness and beauty of the desert.
Whether you choose to spend most of your holiday above or below the water line, you'll not be disappointed.
Egypt's Red Sea Resorts
View map

Egypt facts
Area: 1,001,450 sq. km
Population: 67 million
Language: Arabic, English
Time: GMT + 2
Electricity: 220v. Round pin adaptors