Galapagos Sky
Galapagos Liveaboards
Overview
MV Galapagos Sky, formerly MV Sky Dancer, is a 30 metre steel hull liveaboard, offering very comfortable accommodation. Operating under the new Peter A. Hughes company, DivEncounters, Galapagos Sky provides a perfect base from which to enjoy the outstanding diving available in the Galapagos.
Galapagos Sky sleeps 16 guests in four twin bedded Deluxe and four twin bedded Master cabins. Master cabins can be converted to doubles. All cabins are air-conditioned with en-suite facilities, wardrobe, bathrobes, hairdryer and towels. In Spring 2010, Galapagos Sky underwent a refreshment of the interior fixtures and soft furnishings.
This liveaboard has an air-conditioned salon and dining area, and a sundeck. Guests can enjoy the TV/DVD & CD system. A high level of service is provided by the excellent crew, with warm towels after every dive, dinner table service and tea in bed in the morning should you wish!
Nitrox is included if qualified. It is possible to complete a Nitrox course on the boat.
For more detailed information on MV Galapagos Sky please see here >
Itineraries
All itineraries encompass Darwin & Wolf.
Santa Cruz and Santiago islands among others. 3 days based at Darwin & Wolf offer up to 4 dives/day; the other days offer 2 dives including a check dive on the first day. Itineraries also offer 3 land based guided nature walks by certified Galapagos park rangers, star gazing and encounters with sea lions, fur seals and snorkelling with penguins.
Specification
Length: 30m, Beam: 24ft, 2 x K-14 Compressors, Desalination production (6000 gallons).
Navigation / Safety
GPS, VHF, SSB, colour radar, Echo sounder, GMDSS, First aid and safety equipment.
Flights 
KLM - Regional departures available from Aberdeen, Bristol, Cardiff, Edinburgh, Glasgow, Leeds, Bradford, Liverpool, London City, Manchester, Newcastle, Norwich, Teeside - supplement may apply. Flights also available with Iberia and American Airlines - rates may differ.
Overnights
We encourage divers to arrive and stay on the Ecuador mainland 2 nights before travelling onto the Galapagos. You are travelling a long way on the trip of a lifetime and we want you to join your liveaboard rested and hydrated. In addition, in case your luggage is delayed for any reason, we also recommend 2 nights.
Guayaguil is the best option, as the internal flights are slightly less expensive and most internal flights departing from Quito stop in Guayaguil on the way. Also, Quito is at slight altitude, so you may not find it as restful to overnight in this city to recover from a flight. However, Quito may be the best option if you are extending you travel on the Ecuador mainland.
1 city overnight is always required on the return due to international flight times, in case of internal flight delay.
Your final schedule will be tailored according to flight seat availability at time of booking. If you would like to make your arrangements for more travel on mainland Ecuador, we can tailor the international flights to fit your schedule where available.
Extend your stay? With so much to discover in the Galapagos, we recommend an extension on Santa Cruz Island at the Hotel Silberstein in Puerto Ayora, home to the Charles Darwin Research Station.
Schedules & prices
Price per person includes*: Flights with KLM from Heathrow (regional departures available, supplement may apply), all transfers and internal flights, 2 nights (1 before and 1 after, extra night recommended) in min. 3 star hotel BB basis in Quito / Guayaquil, 7 nights on boat Deluxe cabin FB plus some local alcohol and drinks, based on female or male share, Nitrox if qualified. Prices may fluctuate according to flight availability at time of booking on chosen date of travel.
On Galapagos Sky: Your boat package includes all meals, snacks, soft drinks and hot drinks, air tanks (Nitrox if qualified) and weights. Local beer and wine will be served during your dinner as part of your package and a small selection of liquor and cocktails will also be available to purchase onboard. Guests are permitted to bring their own duty free alcohol onboard. 
Extras to be paid in Resort:
Galapagos National Park fee: $100
Hyperbaric Chamber fee: $35
Tourist transit card: $20
Supplements in Galapagos
Master Cabin: £137 per person for 7 nights
15LTR tanks:  $50  (these are planned to be available form September 2014)
Nitrox course: $150 (includes 2 supervised dives). Advance notice required.
Guaranteed single occupancy:

Deluxe cabin: Please enquire
Master cabin: Please enquire
Supplements in Quito / Guayaguil
Single supplement: from £40
Extra night: from £45
POA = Price on Application
Dive info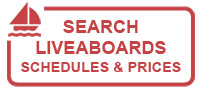 The Galapagos Islands lie on the equator 600 miles off the coast of Ecuador. Evolved over millennia and isolated from any continental landmass, the Galapagos enjoys a completely unique bio diversity that is simply spectacular. These actively volcanic islands host a distinct and unique flora and fauna, including prehistoric creatures found nowhere else on earth.
Thirteen primary islands, five smaller islands and numerous islets and rock formations make up part of the Ecuadorian National Park System and are a World Heritage site in their own right. This includes the world famous diving mecca of Darwin & Wolf.
Diving
Several oceanic currents meet in the island group. This has led to an abundance of marine life that has few equals anywhere in the world. The mixed temperature range underwater delivers a fascinating and rarely seen mix of tropical and temperate fish species.
Many divers are drawn to the Galapagos by the presence of large schools of rays and sharks, which are encountered year round. Various species of turtle breed in the islands, whilst endemic marine iguanas have adapted to local conditions, feeding off the sea algae that thrives in the waters that surround the islands. Inquisitive seals and penguins provide divers with unforgettably thrilling shows as they perform their aquatic acrobatic displays. Occasionally divers are afforded an encounter with some of the islands rare species like Mola Mola, flightless Cormorants and Port Jackson Sharks.
Whale Sharks and more Whales
From May to November cooler currents rich in nutrients attract many of the great pelagic plankton feeders. During these months, The Galapagos Islands are recognised as one of the world's best locations to encounter Whale sharks in large numbers. Numerous species of whales are also regularly seen in the Galapagos over these months. The most common encounters are with Melon Headed, Pilot and Humpbacked whales that migrate to the coast of Ecuador in August and September. Water temperature can vary from 17 - 24ºC.
Manta Rays and more Rays
In December to April, the waters rise slightly in temperature with shifting Oceanic currents, and in come the rays. Water temperature is a slightly warmer 21 - 26ºC. Large Mantas, schools of mobula rays, cow nosed rays, spotted eagle rays and marble rays are frequent visitors.
Darwin and Wolf
These two islands are located 14 hours sailing north of the main island group. The seas surrounding Wolf and Darwin support large concentration of the marine life that makes the Galapagos the dive destination that it is. Certainly no dive itinerary to the Galapagos is complete without a visit to Darwin and Wolf. Schools of hammerheads, dolphins and rays make these islands a highlight for many divers visiting the Galapagos. The whale shark aggregation occurs in the warmer water surrounding these islands.
Hammerhead sharks and other shark species make regular appearances in numbers year round.
Above Water
Because of their isolation, most species have evolved in different ways to their mainland relatives and even within the archipelago species have developed differently. Of the extraordinary animals to be found many are reptiles, such as the great tortoise, large land iguanas, numerous lizards and three species of non-poisonous snakes.
Up to three quarters of a million seabirds flock to the islands, including a third of the world's blue footed boobies, frigate birds, pelicans, cormorants, albatross and petrels. Aside from the extraordinary marine and land borne wildlife, the islands themselves are a fascinating place to walk around, with dramatic volcanic cones and solidified lava flows.
For a map of the Galapagos Islands, please click here >
Tailormade Holidays and Twin Centres
Regaldive holidays to the Galapagos Islands are completely tailormade to your personal requirements, giving the option to extend your liveaboard holiday with a land-based stay for as many nights as you choose. With so much to discover in the Galapagos, we recommend an extension on Santa Cruz Island at the Hotel Silberstein in Puerto Ayora, home to the Charles Darwin Research Station.
Please contact the Regaldive Team for help planning your Galapagos Islands holiday.
Flight Information 
KLM, via Amsterdam to Quito or Guayaquil.
Iberia via Madrid to Quito or Guayaquil.
Continental Airlines via Houston to Quito (ESTA USA visa waiver required).
KLM and Iberia may offer good UK regional departures.
The Galapagos Islands are reached via a 90 minute flight from Quito or Guayaquil. You normally fly into San Cristobal.
Extra nights: A minimum of one night on the outbound and one night on the inbound is required in Quito or Guayaquil, due to international flight schedules and internal flights.
We encourage divers to stay on the Ecuador mainland 2 nights before travelling onto the Galapagos. You are travelling a long way on the trip of a lifetime and we want you to join your liveaboard rested and hydrated. This also helps in case your luggage is delayed.
Departure tax: $26 - $42 airport dependant
Internal flight luggage allowance: 23kg, plus 10kg hand baggage. Excess, overweight and oversize baggage fees apply.
Passports & Visas
Please always check your own entry requirements regardless of your nationality. Your passport should always have at least 6 months validity on date of return travel.
British Nationals are currently granted a 90 day tourist visa on entry.
Always check for last minute changes in entry requirements at the Foreign & Commonwealth website www.fco.gov.uk
Nationalities other than British citizens should check with their own consular office.
Vaccinations
Vaccination requirements are subject to change and should be confirmed before departure. For the most up to date advice please consult your travel clinic or GP. Further information regarding vaccinations for travel to this country can be found at www.fitfortravel.nhs.uk and from your local healthcare provider.
There are no compulsory vaccinations for travel to Galapagos Islands area of Ecuador, but we always recommend protection against typhoid, tetanus, hepatitis A and polio.
Itineraries
Please note that liveaboard itineraries can change without notice. The itinerary will depend on several factors including, but not limited to, weather, diving ability of guests & the number of other boats already present at the various dive sites. All dive sites visited are subject to weather conditions and are at the discretion of your dive guides and vessel captain.
February 2013 - May 2013 Sample Itinerary (Awaiting confirmation for 2014) >
June 2013 - January 2014 Sample Itinerary >
For more detailed information on MV Galapagos Sky please see here >
Diving in the Galapagos - Liveaboards
The diving in Galapagos is not for novice divers. Before attempting to dive in Galapagos you should be completely comfortable in the water and comfortable with all aspects of your equipment. Having experience of diving in cold water with a thicker wetsuit and hood, as well as experience of diving in strong currents, up currents and down currents is highly recommended. Experience in mixed surface conditions, mixed currents and varying water temperatures, proficient use of a DSMB and the ability to cope in buddy pairs or on your own should you become temporarily separated, is imperative.
Regaldive advise that guests booking on to a Galapagos liveaboard should be minimum PADI Advanced or equivalent and have more than 50 logged dives.
Water Temperatures
The water in the Galapagos is relatively cold, ranging from 60 - 80°F (15 - 26ºC) between May and November and 70 - 82°F (20 - 26ºC) between December and June. Divers are highly recommended to wear a minimum full 7 mm wetsuit or semi-dry with a hood and vest, or 5mm layers.
Visibility
The visibility in the Galapagos is often limited, due to the high nutrient content of the water. Visibility can be as low as 4m and as high as 30m but the average is 15m. Visibility varies between dive sites and with the time of day and can even change during a dive. The visibility at Darwin & Wolf tends to be higher than in the Southern islands.
Diving from Pangas
Diving in the Galapagos is conducted from small boats called pangas. The currents in Galapagos are strong and so it is important the divers enter the water together as a group.
The majority of dive sites are small islands that break the surface of the water and then taper down. Because of this, it is impossible to bring the dive yacht directly over the dive site.
Divers suit-up on the main yacht before stepping over to the panga. The panga then approaches the dive site and the divers back-roll into the water.
Diving Requirements
A mandatory check dive will be required of every diver on the first day of the charter, regardless of diving certification or experience. Every dive in the Galapagos will be guided – this is a requirement of the Galapagos National Park. Please note that, due to frequently strong currents, it is mandatory for each diver to carry a DSMB and small light on all dives. A method for attracting attention through noise and reflective light, plus a system such as EPIRB is highly recommended; some of these items can be hired or will be offered as part of your liveaboard.
Offers
Reviews

Have you stayed here? Why not share your experiences by adding your review?
Write a review
Price guide
£4496
per person incl. flights, see below for full details
Hi Michaela! Just a quick one to say cheers! The trip was up to expectations. Everything includin...
At a glance
Flight time: 18 hours
Water temperature: 15 - 26°C
Highlights on-board: Dinner table service and tea in bed in the morning should you wish!
Highlights underwater: Whale Sharks and Hammerheads at Darwin & Wolf