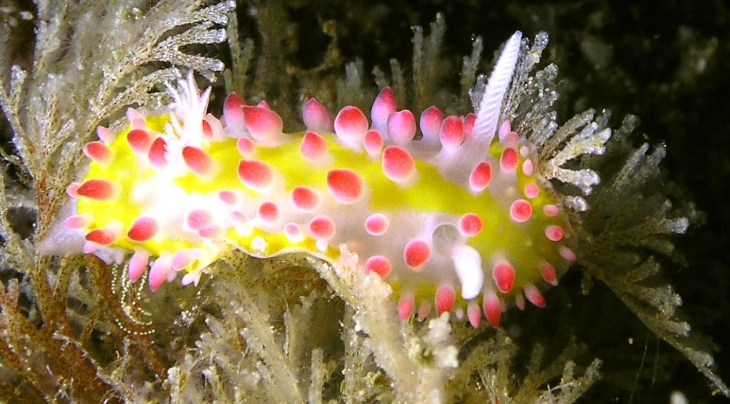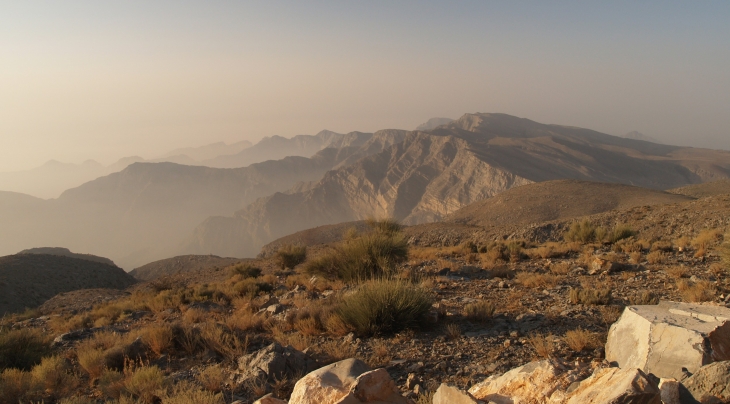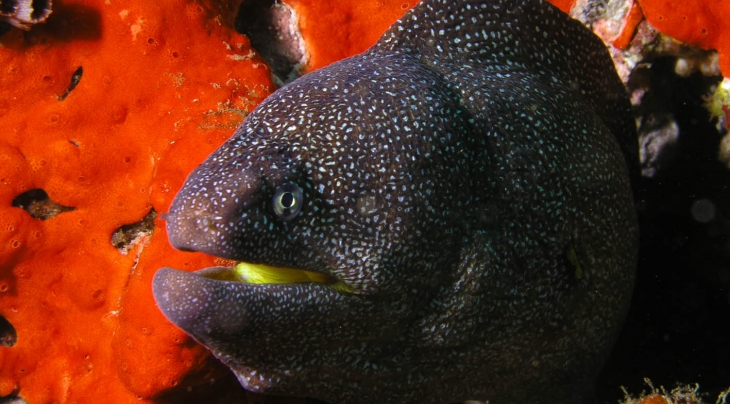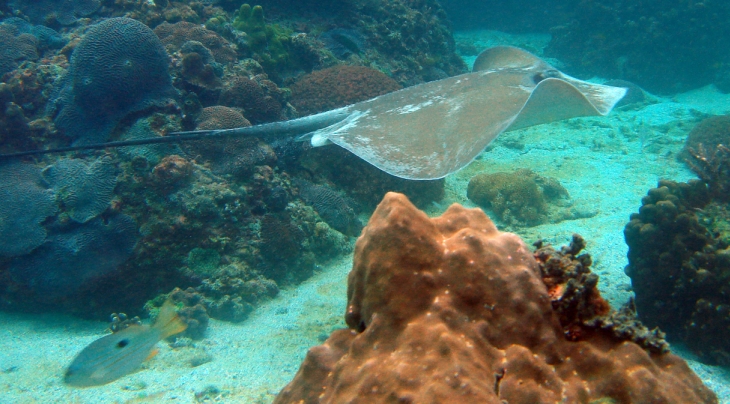 The Musandam peninsula is separated from the rest of Oman by the United Arab Emirates. Geographically, the area is characterised by large sawtooth mountains, which fall dramatically into the sea. 
The coastline itself is carved into countless fjords, bays and islands. The stunning scenery above the surface is reflected underwater by impressive drop offs and an incredible diversity of healthy corals and strong currents.
Reefs and Diving
The waters surrounding Musandam and the Straights of Hormuz provide very fine coral reef diving. Plankton rich waters attract over 900 species of fish, ranging from cleaner wrasse through to whale sharks. There are over 25 established dive sites within 60 minutes boat ride, subject to local conditions. As the region is remote and commercial fishing is not permitted, the volume of marine life is very noticeable and leaves a lasting impression on divers.
The dive sites themselves range in character from walls to extensive coral gardens. The diving here is almost exclusively drift diving. The combination of plankton and strong local currents attract a great range of pelagic species, which includes both manta and eagle rays, along with whale sharks. The dive centre's boats are often accompanied by dolphins, which like the calm waters of Musandam's fjords. Numerous shark species can also be encountered, as well as most species of turtle.
The trade off for the high concentrations of larger marine life is underwater visibility, which typically lies in a range from 12 and 20 metres.
The dive sites of Musandam deliver world class adventurous drift diving to experienced divers. Although the area is remote, access is via a non-stop seven hour flight into Dubai from a variety of British airports.
Extra Divers
Extra Divers runs a small and friendly dive centre at the Atana Khasab, offering SSI and PADI courses. It is located a short drive from the small town of Khasab, where the Extra Divers Villa is located.
All of the 25 dive sites are within around 60 minutes of Khasab port and are accessed by a fast 'wet' boats and a slightly larger fibreglass boat with a small dry area and toliet. The port is a short transfer from the dive centre.
Due to the local geography of the area, drift dives are a strong feature of the area, some of them very challenging, and this location is therefore generally recommended for the more experienced diver, although less experienced divers may be catered for.
The centre has a good rinse area and kit storage. There is also a small dive shop, coffee/tea corner and a workshop for small repairs. In front of the dive centre a sun sheltered terrace is the perfect place to chill-out after diving.
Dive Packs
The centre operates a two tank dive each morning and divers typically finish diving in the early afternoon. Night dives can be organised locally and the centre may offer special trips to shore dive sites, local diver numbers dependant.
Dive Pack Prices
| | |
| --- | --- |
| 6 dives (3 days) | £160  |
| 10 Dives (5 days) |  £260 |
| 20 Dives (10 days) |  £491 |
Includes: 2 morning boat dives or shore by 4x4, air tanks, weights & guide.
Dive Courses
SSI Open Water Diver

£283

SSI Advanced Open Water

£198

 
Please enquire - additional course prices on request.
Extras in Resort
Locally charged Marine Tax:  3 OMR per day
Scuba Review:  50 OMR
Certification fee: 25 OMR
Equipment rental per day incl. computer:  16 OMR
Regulator:  4 OMR
BCD:  4 OMR
Wetsuit:  4 OMR
Snorkel, Fins & Mask:  3 OMR
Computer:  4 OMR
Dive torch:  4 OMR
All charges per day. (£1 = 0.55 OMR approx.)
Equipment:
12l aluminium cylinders with DIN & INT fittings
A couple of 10l tanks are available
Nitrox is not currently available
15l tanks not currently available
Non Diving Activities Available to Book Locally:
Mountain safaris 4x4
Dhow cruise with dolphin watching
BBQs
Local Payment
Please note the dive centre is NOT able to accept credit cards. 3 cash machines are available in Khasab.
The Sultanate of Oman is the gateway to the Arabian Gulf and was for thousands of years the focus of the frankincense trade route. An ancient nation of maritime traders Oman's empire at one point extended down the East African mainland as far as Zanzibar. Strategically situated between India and Europe, the influence of Oman's historical trading partners has left its mark on the population, which is both tolerant and cosmopolitan. Arabic is the official language, although English is widely spoken in some areas.
The Musandam peninsula is completely separated from the main body of Oman by a stretch of land belonging to the United Arab Emirates. Musandam has developed distinct language dialects and cultural mores. A huge pale limestone massif with steep strata crossed cliffs descending into the sea, the Musandam peninsula has remained isolated from the rest of Arabia and is still very remote.  The area is sparsely populated by the Shihuh tribe, who for centuries have been carving a precarious existence from the seas. Some villages can only be accessed by boat. The capital of Musandam, Khasab, has a population of around 16,000 inhabitants.
Climate
Temperatures remain high throughout the year.  The coastal areas have a hot and humid season from May to September (average 32-40°C). The humidity during the hottest months can affect air visibility. From October to April air temperatures are pleasant during the day and cool at night.  The annual rainfall in most parts of Oman rarely exceeds 125mm and generally the weather is good.
Water Temperature 
From November to April average water temperatures vary between 22-26°C, with some thermoclines. Over the summer month's temperatures can rise above 30°C.
In the summer months, Regaldive recommend divers use a 3mm full wetsuit and a 5mm full wetsuit in the winter months. The full suit is recommended due to the small stinging hydroids prevalent in the Indian and Arabian ocean. Although unlikely to cause any damage, it just makes the dives more comfortable should there be anything in the water.
A unique feature of Oman's diving are the number of endemic corals that have learnt to survive in temperatures above their normal temperature range.
Currents and Visibility
Strong currents affect the majority of dive sites accessible out of Musandam. Regaldive recommend that divers should be PADI Advanced or the equivalent with around 30 logged dives to enjoy the full range of dive sites available when booking a recreational dive pack. There are some sheltered sites more suitable for inexperienced divers.
Visibility is in a range between 10 to 20 metres. Reduced visibility is caused by plankton blooms, which attract greater numbers of fish and marine mammals. Sightings of Mantas and other pelagic plankton feeders more frequent than the Red Sea.
Time
Oman is +4 hours ahead of GMT.
Currency
The Omani Rial £1 = 0.6 Rials
United Arab Emirates Dirhams £1 = 5 AED
Sterling and US Dollars are also widely acepted. We recommend taking some money in cash. ATMs are available in Dubai airport and in Khasab town. Major cards are accepted at all hotels.
Travellers cheques can be cashed in Oman, but banks and exchange offices do tend to charge a high exchange rate.
Tipping
Although entirely voluntary, tipping is a recognised part of life in this region of the world. Some local staff will look to travellers for personal recognition of the services offered.  If you do not have local notes in small denominations, use foreign USD notes.
Activities
Other activities include desert safaris, exotic bird watching and rock climbing.
Stopovers in Dubai available either outbound or on the return with a small selction of hotels and apartments.
Flight Information
Into Muscat & Salalah: Flights with Oman Air direct into Muscat from London Heathrow. Connecting flights to Salalah from Muscat.
Into Dubai: Flights with Emirates into Dubai non-stop from London Gatwick, Heathrow, Manchester, Birmingham, Glasgow and Newcastle (conditions may apply on certain regional departures).
Flights with Emirates via Dubai from London Gatwick, Heathrow, Manchester, Birmingham, Glasgow and Newcastle (conditions may apply on certain regional departures) - Supplement will apply.
Flight Duration: Approx. 7 - 8.5 hours
Departure tax: N/A
Ferry Operation
Muscat to Khasab on Sundays and Wednesdays  - ETD 15.00 hrs – ETA 20.00 Hrs
Khasab to Muscat on Tuesdays and Fridays - ETD 15.00 hrs – ETA 20.00 Hrs
Passports & Visas
Please always check your own entry requirements regardless of your nationality. Your passport should always have at least 6 months validity on date of return travel.
Always check for last minute changes in entry requirements. Nationalities other than British citizens should check with their own consular office.
All UK nationals require a visa, which can be obtained on arrival.
Stays of 1 to 10 days: OMR 5 (est. USD $13)
Stays of 10 days to 1 month: OMR 20 (est. USD $52)
Travelling into Dubai, for Musandam: On arrival in Dubai, UAE, British passport holders will be issued with a tourist visa free of charge.
Clients departing from Al Dibba may not need an Omani visa. However, regulations change so this may be a requirement.
There is also a exit fee of 25 Emirati Dirham.
Travelling into Muscat or Salalah: British passport holders may purchase an Oman tourist visa on arrival.
Twin centres between Musandam, Muscat & Salalah: Route dependant if you are travelling by land, sea or air.
Vaccinations
Vaccination requirements are subject to change and should be confirmed before departure.  For the most up to date advice please consult your travel clinic or GP.  Further information regarding vaccinations for travel to this country can be found at www.fitfortravel.nhs.uk and from your local healthcare provider.  There are no compulsory vaccinations for travel to Oman, but we recommend protection against typhoid, tetanus, hepatitis A and polio.
MV Saman Explorer
MV Saman Explorer
MV Saman Explorer
MV Saman Explorer
View map

Oman Facts
Area: 212, 500 sq. km
Population: 2.9 million
Language: Arabic, English, Farsi, Baluchi, Urdu
Time: GMT + 4
Electricity: 220 / 240v, 50Hz, British style 3 pin plug